Catching a Glimpse of a Soul Perspective

Sometimes we catch a glimpse of a deep realization. We may call them "realizations" but they aren't if they don't last and make a permanent impact on our life. Thus I called it a glimpse. While chanting this morning I had some understanding of my tiny insignificance, the degree of my fallen condition in comparison to my eternal spiritual, blissful nature. If only this small beam of light would be part of my total, and permanent enlightened state! Whatever it is, I am grateful for any glimpse of truth. Deep, spiritual, eternal humility comes from realizing the greatness of Krishna who is compared to the grandest sun, and seeing the disparity to our spark-like existence. To our false ego this doesn't sound very flattering, yet spiritually it is a blissful understanding, and materially a great relief!

In fact the smallness of my existence is such a contrast to the bigness of my illusion. This illusion is from my ego's conception of who I am based on my inflated, selfish view of the body. It means thinking myself very important, taking credit for any small activity I perform, and being critical or intolerant of others whose actions don't conform to my standards. Alas for bodily, material consciousness! How proud and how violent to others!
I, the tiny spark of Krishna, one ten thousandth the tip of a hair, and am puffed up with the importance of my body, thoughts, desires, feelings and activities! And I will only like you if you agree with my conceptions!
I, the infinitesimal soul, who am ignorant that I live only by or through the mercy of God! I have no power of my own because I am totally dependent on the Lord.
Though I have an eternal identity or sense of personal existence, in truth there is only God and his energy, which for me is Krishna and Radha or Gaura Nitai and their devotees and potencies. Krishna means God and his energies or saktis. God and his energies are one, yet different. As a part of God I am naturally meant to serve his purpose. Truly his purpose is my purpose, yet I want my selfishness to be supreme. Just as the finger is meant to serve the interest of the whole body, so our natural position is to serve the Supreme Whole.
Although from one perspective I don't deserve to have an existence by my current activities and mentality, the Lord mercifully maintains and loves me, and everyone. I live at the cost of so many living beings. The only way to truly accept this fact and properly reciprocate is to be always engaged in the Lord's devotional service. When Krishna is satisfied we are satisfied, and everyone is satisfied! Without this realization and acting on the basis of it, our existence is meager and really has no meaning. What meaning does the sun ray have with out the sun, the tree without the root, the body without the stomach, the drop without the ocean, or an infant without his parents or guardians?
Everyone naturally yearns and searches for meaning in their lives, and this is it! Without God I am nothing, but I think myself self-sufficient! Only by service to God, devotees and living beings in general will we realize lasting happiness and fulfillment.


From the spiritual perspective, worldly Godless existence is such a farce, such an embarrassment for the soul. The soul, who is self-effulgent, eternal, full of love and light, ecstatically blissful in service to God, and with complete knowledge and satisfaction has settled for a dark, temporary, miserable existence. And our ego tells us that material life is "normal"--this is called being a conditioned soul, conditioned to the restrictions of matter.
How incomparably inferior, meager, limited and useless is a life devoid of the vision and service of our Supreme beloved, our dear-most friend and well-wisher. If only we could embrace the spiritual reality as our true nature and goal of our life. Life is more then the physical and we are more then just the body and mind. This life seems real because behind it is the power and energy of God, and it is a perverted reflection of the spiritual dimension--like a tree reflected upside down on a lake.
Of course we are on the path of realizing this. Talk is easy, yet we have to begin wherever we are, and take baby steps if necessary. We have to understand the shortcomings of matter and gain a higher taste of the spiritual through chanting the holy name, hearing the Lord's lila or divine activities, and engaging in service to Lord's Deity form and his advanced devoted servants.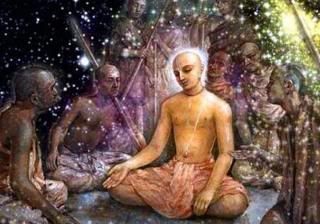 The bleak picture of material life is not meant to make us feel bad or discourage us from living life. It is meant to give us pause, and help us see the world in perspective. Detachment or stepping back from life is highly valued in Vedic literature because then we can gain perspective. Otherwise we may be too close to life to see it for what it is—we won't see the "forest for the trees". So we need to cultivate detachment guided by Vedic knowledge. Spiritual philosophy helps us to refrain from activities not in our spiritual best interest.
On the path of Bhakti our detachment from the world is also a by-product of our attachment for Krishna. So what is the cause of bondage—attachment—is also the cause of liberation. Attachment to the world keeps us in the world, and attachment for Krishna brings us to Krishna. Our goal in life as followers of Shri Chaitanya is not Krishna, but love of Krishna. If we love Krishna, then we are with him wherever we are. Just like if you love someone, seeing anything that belongs to them makes you remember them, especially in their absence.
We don't desire "mukti" or freedom from the world as do the jnani's or students of Vedanta, but we aspire only for "bhakti" eternal loving service to Krishna. Then for a devotee, the world is no longer miserable, but an abode of joy, and becomes a friendly place for service and sharing our love and service for our dear most beloved! Love of Krishna transforms us and the whole world...and thus we have come full circle from how we began the blog! From the agony to the ecstasy! Hare Krishna!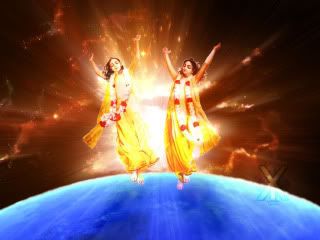 Login to post comments

1591 reads