Retreating into the Heart of the Holy Name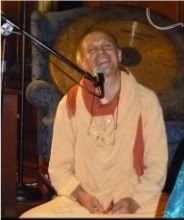 Eight day japa retreat focused on
living, breathing vital Krishna consciousness,
expanding on the "basics"
by looking at them in deeper ways.
Some said that they
couldn't be paid to attend
revealing (sadly) their lack of taste
negative projection, dejection, resignation.
This demonstrates the necessity to revisit
rethink, reexperience, revitalize our relationship
to the Holy Name, seeing it as the Divine Couple
full of mercy and delightful, uplifting taste.
So much more than "only japa" as we joined
prayerfully together in service mood
for essential spiritual practices
to revitalize our consciousness.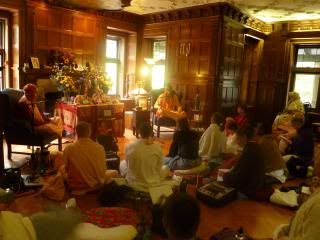 A loose agreed upon hierarchy
the sadhus and facilitators lead
yet everyone felt supported/honored—
equality, humility, joy before God.
No trips, ego demonstrations
irrelevant dramas, mundane competition
only shared purpose, with support
in our shortcomings, yet ever hopeful.
Reciprocal dealings between all—
participants' intensity and eagerness
buildings' good energy, bringing out sadhus'
realizations, experience and feeling.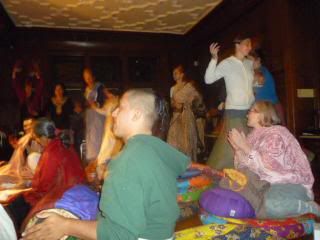 Ecstatic, uplifting, heartfelt kirtana,
focused japa by remembering that
the Lord, his name are one
before incredibly beautiful Deities.
Nothing else but spiritual observances
each day praying to go deeper
gaining more methods to invoke
our full participation and heart attention.
At every step we filled our cup
in remembering and glorifying
the Divine Couple's name, form and lila
creating community without pretense.

Login to post comments

2154 reads