The Creative Process is a Gracious Gift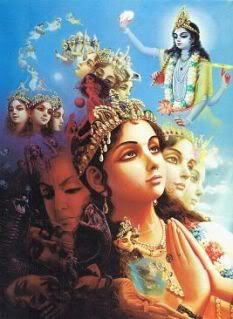 The great Brahma instructs us
celebrated in the Vedas as "the Creator"
this is only secondarily so
being supplied material ingredients
he assembles planets and all bodies
according to internal inspiration
existing within as subtle seed
he gives credit to his Source and Deity.
The building or addition
we're constructing
is already existing
similarly the poem or essay
we labor to produce and perfect
only appears newly manufactured
as we are only instruments of creation.
As the house builds itself
we don't write the poem
the poem writes us
as does the blog
painting, sculpture, song, film—
though this fact
doesn't mean the result
is universally appreciated.
So, you are a published author?
the latest literary sensation?—
do your feet no longer touch the ground?
you no longer answer Nature's call?
though lavish praise garlands you
without believing in your self
having joy and peace
all appreciation is empty
the world is void.


Are we great
because of the world's opinion?,
or due to who we are—
the quality of our life
our intentions for acting
and why we live and endeavor?!
Though the attached will not agree
the spiritual seekers
are at peace with their embodiment
taking pleasure in their soul
perceiving material life
like the flapping of the fish on land
the fate of the sand castle at the beach.
On death row
we only have so many meals
heartbeats, breaths, excretments—
that doesn't mean life isn't opportunity—
it is!—if kept in perspective
as life only has meaning due to the life force
consciousness comes from the soul
which is far greater than matter
while infinitely superior is the Supreme Soul.
Even after driving 1,000 miles
without steering we fall into the ditch
past accolades cannot sustain us
we are defined moment by moment—
regardless of our achievements
bank balance, possessions, home
more important than externals is
who we have become in the process.
Login to post comments

1917 reads