Being Present in the Moment—Rather than Thinking of the Future Part 1
So many themes repeat themselves in my awareness. We have theory (jnana) and realized wisdom (vijnana) and we need to continually revisit philosophical points till they are assimilated and become part of our identity. Since I live in partial seclusion in the country, away from the busy-ness of urban areas, when I do go to the "big city" with its thronging crowds, I notice things that I might otherwise be desensitized by. Human beings tend to become used to their surroundings, and hardly notice them—especially in our harried, overachiever society, in which we often have ten thoughts going on while we walk to our car, or carry out the duties of our household.
Country living, coupled with spiritual practice, has helped me to slow down and smell the roses, so to speak. Plus I do my best to pause before any activity, and offer it to Krishna. It only takes a second, yet it makes a huge difference in my life. Whether getting up from or going to bed, taking a shower, waking the Deities, beginning to chant my rounds, going to work, or embarking on a shopping expedition, I want to offer the activity or the day (or my blog) to my gurus and Krishna. Everything is part of Krishna, and everything can be used to serve him. Applying this principle is how our life becomes Krishna conscious, and our activities part of our devotional service. Even if we only have a tiny part of our life we offer to Krishna, and a huge part we use for material enjoyment, we still need to hear the goal, the means for attaining it, and gain the faith that we can change our life for Krishna's service.


Wednesday I went to the local medical clinic, while yesterday I went food (bhoga) shopping for our family and a close friend. Before I left, I prayed that the environments I encountered, the people I met or saw, and the situations I found myself in, would teach me important lessons for my spiritual and human growth. I prayed to be mindful and present in the moment—not just thinking about finishing my task, or in some male's language, "conquering" my duty or "chore" (a word I never use!). I didn't want my shopping or waiting at the clinic to be my focus. I wanted to be present or aware enough to notice and observe, while keeping an internal prayerful mood. We become successful at anything through practice and desire. I know if I am able to practice the above and remember Krishna as much as possible, my day will always be glorious, or at least never a waste. And no activity or day will be "ordinary".
Another way I could describe this mental state, is being present, yet detached, like a third person observing myself and my errands and interactions with others. How can I kindly respond rather than rudely react. I try my best, yet I know the results of my endeavor come from Krishna. My real job as a devotee is to remember Krishna and to saturate my life and activities with love for him—and part of this is seeing others souls with love, since they are part of Krishna. As much as possible I make the holy name my companion—not like I did as a new devotee motivated by fear of being contaminated by the dreaded material world or Maya. No. Now I want to connect with Krishna, and connect everything in my life to his service.
From one perspective I am maintaining my body for myself, and shopping for my family, yet I have to also realize that I live in Krishna's family and Krishna's house. I am procuring food for offering to our home Deities, and taking care of my body as a vehicle for service. In all circumstances I am my guru's and Krishna's servant—at least the goal is to be absorbed in this way. I admit to not being perfect in this. Never the less, it is my daily endeavor. Whatever our secondary aims in life are, we can still make this our primary aim! I am sharing this with you in the hope that you might also take it up. It makes our life blissful and meaningful—and never boring! We can always find something to do for Krishna. We can chant the holy name, read, pray, or engage in service—or we can find a devotee to help us serve in one of these ways. Where there is a will, there is a way. Krishna helps those who help themselves, or ask for help!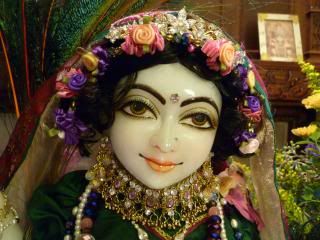 Login to post comments

5384 reads