On Being a Man
Although spiritual life's first teaching is that our lasting identity is not the physical body or mind, but eternal spiritual consciousness, we never the less have to deal effectively with our embodiment. The idea of understanding and using our physicality as a means of getting beyond it is essential, as opposed to just denying our conditioned nature in the name of spiritual advancement. Repression or denial is only another kind of attachment. And material attachments, which are compared to heavy weights or anchors, keep us from progressing spiritually.
The Vedas teach us that despite its shortcomings, our physical body is a good ship for crossing the ocean of material illusion, ignorance and suffering. The Vedic scriptures manifested as the Guru, can become the expert captain of our ship, and the favorable breezes are the facilities of our human body. Whatever our gender, family of [material] origin, nationality, race, etc., they have their advantages and disadvantages. It's up to us to make our situation the most favorable for our spiritual life, and for retiring our mundane desires and attachments. Transcendental knowledge gives us the option to not be used by our conditioning or our perceived deficiencies, but to dovetail, and purify them in relationship to the Divine.
Much has been written about the difficulty in being a minority or in a disenfranchised segment of society, such as African American, gay, a woman, and so on. Thus, when I speak of the difficulty of being a man, and a white "WASP" looking one at that [white Anglo-Saxon protestant], it may not seem to hold much currency in today's world, where oppressed people have finally been given a voice (at least to some extent). While I don't mean to minimize the struggles and special trials of these groups, all bodies and karma have their special challenges, and everyone is oppressed by their mind and senses, to the degree that they don't practice spiritual life. Children do not have the advantage of being able to compare their struggles with others who, to detached observers, went through much more severe trauma or abuse.
When I first began thinking of the topic of being a man, I thought that many men I have known or read about have truly struggled much more than I. However, the more I remembered the circumstances of my upbringing, it became clear to me, that indeed, I did face challenges around the way I expressed my maleness, though I didn't have the vocabulary or awareness to really label it as such.
As I share my experiences, you might reflect on your own. My hope for all my writing is to provide food for thought for all, whether men or women. People are complex. If we are to be free of major conflict, or perhaps war, with ourselves and/or others, we need to gain a deep understanding of the specific conditioned nature we have to deal with. As a general rule, I have found it helpful for all of us to study our parent's upbringing as a way of better understanding them, and whatever shortcomings we perceive them as having. We are advised in many scriptures to hate the sin, or bad behavior, and not the sinner, or illusioned soul. The soul is by nature pure—and, well, spiritual (described as being eternally full of awareness, and ever increasing joy)—but is presently very confused or mixed up, due to suffering from spiritual amnesia. If we truly understand this, our life will be much more peaceful, and less reactive, and we will feel compassion for ourselves and the human predicament we observe all around us.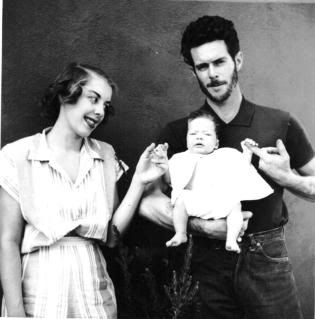 I was born a very sensitive child, who in today's language had a good deal of female energy, though in a good balance with the male side. A good balance between these two sides of our psyche is a big advantage in communicating and getting along with others, and in general getting along with women. However, coming in contact with my father brought my mild, sensitive nature, into conflict with his. My father's father died in front of him when he was ten years old, and he was brought up by a very overbearing mother. She was an English teacher, who also worked on a newspaper staff, and ran a very tight ship at work, and at home.
My father's nature was such that he rebelled against his mom, and he later generalized his dislike for his mom on all women! Additionally, from my study, he had doubts about his masculinity, and may have had homosexual tendencies, that were repulsive to him. Therefore, he had to portray a macho image, of a strong masculine nature, when in truth he was as very insecure about himself and his maleness. He married three times, all to very strong women, with whom he fought with for dominion of the household. In fact, he drove my mom from our house when I was twelve years old.
Some things I remember about him are his pounding his chest, and screaming, "I'm a man, and no woman tells me what to do!", and his warped advise, "Son, with women, you can't live with them, or without them". This was his experience, and then, when he had a son who was a very sensitive child, he hated that. If I had been a huge football player who exuded masculinity he would have applauded that. As it was, I challenged his own insecurities about being a man, and he violently lashed out at me. To survive, I had to become hypersensitive to his moods to avoid angering him, and I turned off my sensitivity to pain so I could not be hurt. Understanding these things has been very helpful for my growth as a person, and in being at peace with my upbringing. After all, our parents are instruments of our karma. Like many things that is easy to say, but difficult to put into practice. Yet practice we must, if we are to not be stuck!
To conclude, being a man or woman, isn't simply biology, but the expectations of our parents, friends, and society, as well as our struggle to conform, and to be our own person. From a spiritual perspective, all our assumed bodily designations are problematic. The soul's nature is to serve God, which is our true happiness. However, in the material world, we are forced to serve the needs of the earthly body and mind, and fearful of our perceived threat of non-existence, which hangs over our head as cruel death.
Spiritual life is about waking up to our real nature, and seeing material roles, as artificial and foreign for our true self. Although you may think that is information may create an unnecessary burden, the truth is that spiritual knowledge gives us much relief and freedom from material suffering. Being a spiritual person, does not mean repressing our conditioned nature, but learning to be fully present in our particular body, in a way that is favorable for our spiritual awakening. So whether we are in a man's or woman's body, the perfection of any designation we appear to have, is to use it as a vehicle for developing our dormant love for God, or Krishna. We can become fully present in the here and now, while focused on remembering, serving, and praying to Krishna.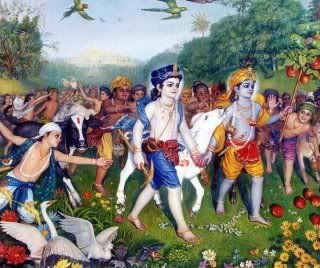 Login to post comments

3438 reads