The Spiritual Basics Must Be Mastered (And it takes a long time!)
(this blog is recorded on the full page: quick time player needed)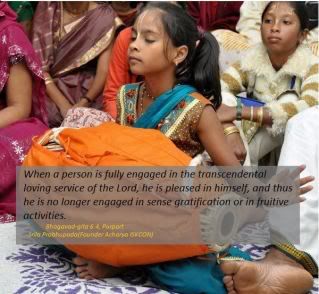 I
It's the basics revisited
I write about it often
spiritual life 101—yet again
I know the theory by heart!:
"We are spiritual beings
covered by body/mind."
Oh, it seems old news
I am such a mature devotee.
Though truth be told
realization is difficult
a long education process
of trial and error repeatedly,
naked truth of embodiment
the laboratory of life
hearing it frequently
thinking it over carefully.
Chanting and contemplation
applying the fundamentals
in everyday activities
through study, work,
marriage, family, children
doing what we must
desires and attachments
adding the most essential.
Remembrance of Krishna
at all times and places
accepting the helpful
giving up want's not,
seeing through the scriptures
the wise sadhu's words
present continual opportunity
to practice what we've learned.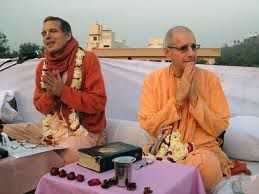 II
Blissful spring is here
(beautiful but too short)
with so many duties
as I pull weeds,
I think of unwanted plants—
compared to material desires—
which I once imagined
were things I wanted
now they simply disturb.
We cause our problems
the quest for material joy
but real happiness from the soul—
not these covered senses,
feeling with a spacesuit on
the body's such an inconvenience
material law's restrict/confine
promise greatly, deliver minimally.
Our health totters, fails
we lament our loses
the aging process diminishes
as I drive to the store, lessons:
"collateral damage", or road kill
a skunk, possum, spattered red glory
mangled deer to the side
store owners cat with mange.
Two sides of the coin
can both motivates us in bhakti:
material misery/spiritual bliss
the latter points to the former,
but we have to pray intently
to notice what life truly is
spiritual practice is real life
our highest ideal carries us.
Login to post comments

6166 reads