The Holy Name Chants Us!
(this blog is recorded on the full page: quick time player needed)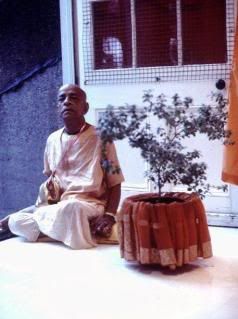 Monthly Japa Immersion Day
setting six hours aside
for only chanting Hare Krishna
an intensified opportunity for Presence
joined together with others
we gain collective supportive strength
yet each person is alone with the Name
everything else is on hold
our investment only in chanting
revealing our faith and interest.
We sit before Radha Krishna Deities
with only our beads and voice
reducing time to one mantra
learning to be satisfied in a moment
the past and future are illusion
thoughts come, and thoughts go
we have to return to attention
the Divine Couple in Their Names
sitting before a spiritual portal
praying for the grace to enter.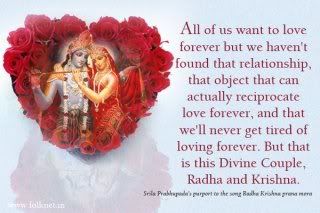 A pathway from matter to spirit
taste without distraction the entry fee
unlocking our experience of the self
our suitcases of accumulated garbage
like concrete covering our feet
we only have to let go—
yet occasionally the portal opens
then nothing else matters
awakened to see beyond seeing
we are blissfully bathed in divine light.
Realizing we're moving up the mountain
regardless of external appearances
first and foremost we're spiritual pilgrims
our task is to remember this frequently
seeing our worldly desires as folly
all material pleasure like a desert
true thirst quenching water, the soul
satisfaction lies in spiritual giving
our eternal engagement in loving service
discovered by the embrace of the holy name.

Login to post comments

2803 reads