Part 1. Introduction to Completion—Where and When Does a Circle/Cycle Begin?
(this blog is recorded on the full page: quick time player needed)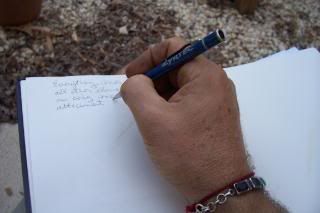 Every time I write about writing, I think of adding, "although I have already written too much about writing". Yet today, I have a different angle of vision. I'm thinking that it is natural to speak about what we are preoccupied with. Can we write too much about life, death, or spiritual practice? I think not, and still, I feel somewhat apologetic for writing so much about writing as if I have justify it to my readers. Whatever my writing is, good, bad, or mediocre, I write on topics that capture my interest and attention, that I feel inspiration for, and that I pray may be of some use to you on your life's journey of awakening. I have broken this off from a much longer poem, that is now in 3 parts, which perhaps is kinder to you, or at least is more focused.
The blank page beckons
inspiration's door opens a crack
will it open wide or crash shut?
giving uncertainty whether to begin—
so I pray to the Source of all, learning:
endeavor & grace create possibilities
faithful effort always bears fruit
the poem reveals itself to openness.
He who hesitates loses inspiration
the flame only illuminates the moving pen
God's grace is everywhere (all-pervading)
we create darkness (writer's block) by believing in it
nothing's accomplished w/o faithful endeavor
going forward in humble confidence *
knowing the result already exists
if the instrument is ready and willing.
A thousand duties distractingly compete
pulling me in all directions but writing
to completion needs a beginning
walking past doubt on the road of service
churning the supplied ingredients
giving time, heart, receptivity
alternating steps with quite inner listening
the mountain top is reached in its own time.
* "humble confidence" means never thinking we are the doer, or cause of our accomplishment, success, or the result, while simultaneously not taking anything for granted, and endeavoring with positive expectancy that something good will come.
Login to post comments

3764 reads