Saintly Association and the Power of Urgent Hearing
(this blog is recorded on the full page: quick time player needed; works best with Firefox)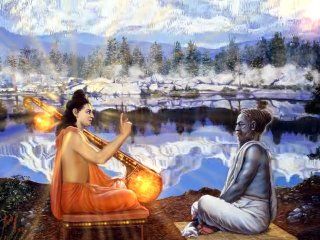 One of the principle ways we make spiritual progress in unalloyed devotion (uttama bhakti) is by saintly association, or sadhu-sanga. We are advised in the Vedic scriptures to not just see a saint, but to hear from them. In a general sense we tend to become like persons we spend time with, and specifically if we associate with saints, we can be affected by their faith, taste, and spiritual standing, according to our receptivity and the condition of our spiritual heart. This means that to actually benefit from the company of a sadhu, or sadhvi, we are required to carefully listen to their realizations with faith, and thus appreciate them beyond external appearances, or without our ordinary worldly judgment of attraction or repulsion based on the desirability or undesirability of the body, or personality. We may, by conditioning, upbringing, or religious bias, think a saint must appear or speak in a certain way, or be a particular age, gender, race, ethnicity, religion, sect, or any numbers of what are actually material conceptions, rather than the primary quality of purity and spiritual standing.
Another way of saying this is that we may construct, even unconsciously, a particular external criterion, or lens, for recognizing a saint which has the undesirable effect of excluding persons who don't fit what may be a rigid conception from ecclesiastical edicts, or bad or limited experience. Human beings seemed wired to simplify things through labels, like creating an internal file cabinet with so many folders. Thus we create one folder for saint, and other for non-saint. Then we don't have to think about those in the non-saint box, since we believe they are a known quantity with so many reasons not to listen to them.
According to Shrila Rupa Goswami in his UpadeshAmrita text 6, a pure devotee may have a "body born in a low family, a body with a bad complexion, a deformed body, or a diseased or infirm body," or, we may infer, have mental quirks or personality eccentricities. He compares such a pure devotee to the Ganges River, which during the rainy season may contain bubbles, foam and mud, and yet is still considered pure. Shri Chaitanya has taught that anyone who knows the science of Krishna consciousness, or pure bhakti, is fit to be a guru or teacher. While even a moment's association with a saint can change our life, there is a quality required to properly and fully benefit. Going beyond physical and personality appearances is a good beginning, but is only part of what is required. If we are to really hear from a saint, our heart has to be open and thus receptive, which may take some time—not just one hearing will do.


Some people may hear, or evaluate, a person to determine if they can be a teacher or guru by just looking down a list of faults or shortcomings to avoid, or listening for one sentence they don't agree with, in order to discount them, and then moving to the next person. Such a methodology is bound to disqualify most candidates. I would say that in addition to having some education about what a guru is, the most important quality we can possess is our personal spiritual necessity, the intensity of our purpose. If you speak to any devotee who has passed the test of time by enthusiastically continuing their spiritual practice over the years, you will surely find that their acceptance of a guru was the result of an intense existential crisis, or thirst for spiritual wisdom. Such an urgent necessity enables one to hear in a way that casual listeners can't.
I might add that merely questioning due to curiosity will bear a much different result than ardent inquiry expressed with the pressing need to know. In the verse in the Gita (4.34) which recommends accepting a guru, the necessity of submission, inquiry, and service is given as a prerequisite for such acceptance. This means that having faith in a particular agent of divinity takes time, prayer, sincerity, questions, and surrendered service. We are meant to bring our doubts to a saintly person since one meaning of guru is one who can destroy our doubts. This should be evident by studying the questions of Arjuna in the Bhagavad Gita, or from other inquisitive persons in the Shrimad Bhagavatam who put forward questions to saints with all seriousness. From another verse [Mundaka Upanishad 1.2.12] we learn that "One must accept a guru." While that can seem like merely a general mandate that must be done, it can also mean that due to the intensity of one's necessity one will feel that a particular guru must be accepted by the strength of one's faithful conviction that all prospect will be found here.


We have the example of Japa Bharata written about in the Fifth Canto of Shrimad Bhagavatam. He was a self-realized soul, but in order to avoid the influence of society, he remained like a dull, deaf and dumb person. He remembered the mistake of a previous life in becoming diverted from his spiritual practice by attachment to a deer, and then his next life as a deer. Thus he was determined to completely absorb himself in spiritual cultivation, indifferent to ordinary material life.
Somehow in the course of his wandering about, a King named Rahugana forced him to carry his palanquin. When Jada Bharata failed to do his duty properly, the King's sarcastic chastisement brought out the divine spiritual insights of this saint. Upon hearing the realized words of Jada Bharata delivered with spiritual power and compassion, the King, due to his spiritual training and realization, recognized the sadhu's position and was awakened to his real knowledge. King Rahugana realized that he offended a great, learned and saintly person, and with great sincerity, he begged his pardon and bowed down. Thus he very humbly and respectfully prayed to Jada Bharata, inquiring further into self-realization and the deeper meanings of Jada's instructions.
While we won't likely encounter a saint covered to such a degree as Jada Bharata, we may non-the-less be tested to overlook the superficial external qualities of an advanced devotee to discover the essence of their character coming from a rich, inner, spiritual life. To reiterate the main thrust of this blog, to properly benefit from a saint's company we have to not merely see them externally, but have a favorable mentality with an open heart. Then we can be receptive to hear their insights and realizations. A positive receptivity comes from the quality of our hearing. Who we are as a person—our material and/or spiritual sensitivities—as well as the amount of urgent necessity we bring to our search, will also determine how much we may benefit from a saint's company.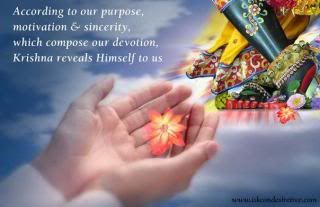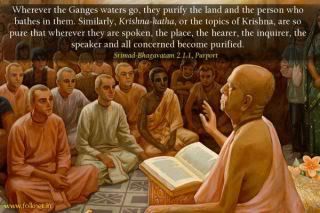 Login to post comments

4534 reads