SNOW BOUND (Our Self-Created Prison) and LIBERATION FROM BONDAGE
(this blog is recorded on the full page: quick time player is needed; works best with Firefox or Explorer; if you are using Google Chrome it will automatically play, so if you don't want to listen, mute your speakers.)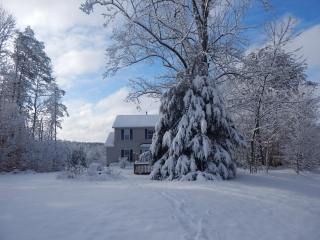 Here in North Carolina we don't get anywhere near the amount of snow of northern states. Mostly the big storms pass us by or don't leave much snow. Occasionally we get a little dusting, or a few inches of that white fluffy stuff. If there is accumulation we have our Mitra (friend) who uses his tractor to plow our road and driveway. Unfortunately for us, he is out of town, and so we really appreciate his kind service, being unable to move out of our driveway, and with temperatures remaining below freezing, there is no end in sight.
We are stuck, and naturally, this is fodder for writing. Today I thought of the idea of being imprisoned by the life we create to be happy—house, car, possessions, family—which at some point may seem a great burden if we aren't using our life for spiritual progress, or to fulfill our life's mission. We may also be psychologically stuck. In these cases we often need outside help to get out of our predicament. For example, we come in contact with a devotee who introduces us to spiritual life and is able to give us a way out of our self-created prison by the holy name and service of the Lord, or as appropriate, tools to change our negative conditioning. We need our Mitra, or well-wishing friend, who can removed the snow of our misconceptions, and give us the true freedom our soul hankers for.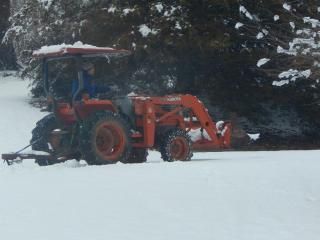 Sometimes in scripture, the life of a materialist householder is compared to a silkworm who spins a cocoon, or a self-created prison. Before the silkworm can fly away in his true life in the sky above, he is killed by the silk merchant, who gains the benefit of the silkworm's endeavor. In other words, a person works hard to create facilities for material happiness, but becomes entrapped by karma (the cocoon), and is forced to take another birth and reap the rewards of their actions. Even before their death some people feel trapped by the life they have worked hard to create due to be dissatisfied with their job, house, or family members.
Such stark portrayals are not meant to discourage us, but point to the importance of endeavoring for self-realization, or leading a Godly like. Such a spiritually focused life, given to us by the mercy of the Lord through his devotee, gives us the opportunity to end the cycle of re-birth and death. Even on the spiritual path we may encounter inner obstacles that can be helped through personal growth work which acts as an assistant to our spiritual progress. Then, being a balanced human being and dedicated spiritual practitioner, we will travel to our real spiritual home where we engage in blissful service to the all-attractive Supreme Personalities of Godhead for which we have been searching throughout unlimited births.
LIBERATION FROM BONDAGE—SAVED BY DOSS!

After 5 days of being snowbound, we had to get out into the world outside our life. What the "real world" is, is another discussion, but in any case, our frig was only full of cold air, and needed something to do. Not having our Mitra, (friend) we had to search elsewhere. First we tried our bulldozer guy, but he was too busy to come the next day. Then we called a towing company and that did the job, though even with snow chains, it wasn't easy for the driver. We were too far off the state road for AAA to cover it, so we had to pay full price. A bit of a pinch, but we were able to go shopping and replenish our stores.
In extricating us from our non-moving frozen condition (like the soul in the material world), the driver, by his focused endeavor, demonstrated the importance of perseverance, skill, and experience—as is required for success in yoga, bhakti, or any goal worthy of obtainment. That is a nice reminder when we are stuck. The first step is realizing we are, and then believing we can become unstuck. We could've just complained at the unfairness of life, or about God, or just waited for the snow—now ice—to melt, but the idea of only eating kitre (rice and beans) with no veggies was a bit of a motivator.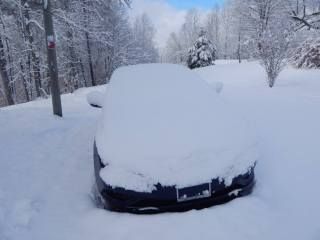 Fortunately in our case, we could easily determine that we were stuck, and to remain so had consequences that were unacceptable—ah, how important is our motivation for action? Even if we know we are stuck and believe we could become free, it may seem too much work to change. If we are lucky, Krishna helps us by tightening the screws of life to show us that we have to get unstuck, or engage in the work of change, to be happy. Then we have impetus to seek out expert help to alleviate our stuck, or unresourceful, condition. When it snows on our parade, we are meant to take notice, and ponder the meaning, or what we might learn, or need to change.
And how fitting that the truck company's name was DOSS! This naturally reminded me of Das, (or Dasi) or being a servant. Our life is transformed by the service attitude in relationship to God, and everyone in relationship to him. If we do everything in the service mood, that also changes our life. For those of us on the bhakti path, one of our goals is to develop the "serving ego." We pray to replace our materially natural, through problematic and frozen, "exploitive ego," or the "me first, I am the enjoyer and controller mentality," with our spiritual nature, or the identity, spiritual ego, of a servant of Krishna. So we were saved by DOSS.
Krishna serves many purposes, or teaches us multiple lessons, by everything and everyone we encounter in life. However, we have to look for it beyond appearances. Fortunately, as in this life example of being stuck in the snow, some of the lessons are very obvious. With more subtle ways of being stuck we may require help to understand how we are stuck, and to become unstuck. In any case, I am grateful to be free—at least from one frozen condition. As far as my internal frozen conditioning, I am still a work in progress in illuminating it, replacing it with an empowered service condition, and letting the old frozen mentality go. The holy name, saintly association, prayer, Deity service, focused introspection, serving my gurus, the Vaishnavas, and people in general, are the flames by which my frozen heart is melting, and my soul is flowing, water-like, to my Source—for me, Radha and Krishna, the Lords of my spiritual heart.
Login to post comments

2887 reads