For we, the Fallen, the Hope of Karttik: Radha's Mercy

(©syamarani dasi, used with permission; wwwbhaktiart.net)
[reposted from Oct 2009]

Often I have spoken
of matter's "naked form"—
its conditions upon us
or rather how our body
is subjected to tribulations,
conditions and diminishing returns
with misery sometimes
reaching such a pitch
that cruel death
seems a welcoming friend,
but "death" is only another beginning
as we take birth again
to pursue the same things repeatedly
looking to fulfill our spiritual urges
through external, physical bodies—
a vain hope against hope!
Then there is our internal
"naked form" of inner desires
unconscious before—
but now as a devotee
our "dark side" revealed:
our envy of Krishna
and our dirty hearts
standing out like a
blinding light—
does becoming a devotee
make us a worse person,
or are we just conscious
for the first time
of our true conditioned position?
Yet we persevere as
sadhakas gradually awakening
learning the theory of Bhakti
with some realization—
however tiny—of the
ocean of devotion
the nectar of Prema
knowledge of which
also illuminates
our shadow
making it
appear more accessible
revealing our own ineligibility
to enter the world of Light—
hanging like a weight
threatening to pull us
down again, into the mud.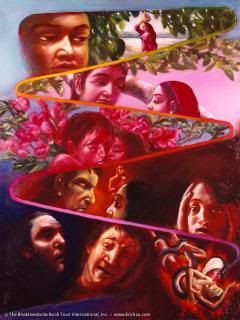 Seeing this we lament
being still attached to
our lust and selfishness—
that which we shouldn't want
we still hanker for
and so we cry, and sigh, "alas"—
how could this be?
I should be a pure devotee!
yet as often as we stumble
or trip and fall
we must keep getting up
knowing the struggle is
more than worth our time.
We can't become forlorn
so instead of looking down
at our conditioning and failures—
our "if only I had's"—
no!—
we must not look back
except to learn, never to live,
remembering our good fortune
how we were saved
in our great hour of need
for meaning
and transcendental happiness.
We must take
our shortcomings
as an impetus
to again renew our quest—
not giving in to be depressed—
to take shelter of our gurus and Krishna
the mercy of Shri Gaura-Nitai
their beautiful lila
we aspire to enter,
along with the ideal
of love exemplified by
Radha & Govinda and their devotees.


Can we cry for
our fallen condition
yet feel positive and joyful
that Krishna with
his mercy agents
are our true
salvation and shelter
giving us cause to hope
and thus rejoice?
Now again
Kartika has come—
Radha's month—
to remind us
of the beauty and mercy
of Shri Radha Gopinatha (Krishna)
and the importance
of our spiritual practices
as we derive special benefit
in this month
by our humble efforts
to serve the Divine Couple
hearing and remembering
their spiritual activities
chanting their holy name
in abandon and feeling.
We aspire to
surrender our heart
by begging for the mercy
of the Kali yuga avatars
Shri Chaitanya-Nitai
as we offer the flame
to Shri Radha Damodar,
praying to offer our soul
to be free from our
rebellious ignorance
tasting the supreme bliss
that will end
our material attractions
letting our souls
dance eternally
with the Lords
of our heart and soul
for whom we have been
searching for eternally!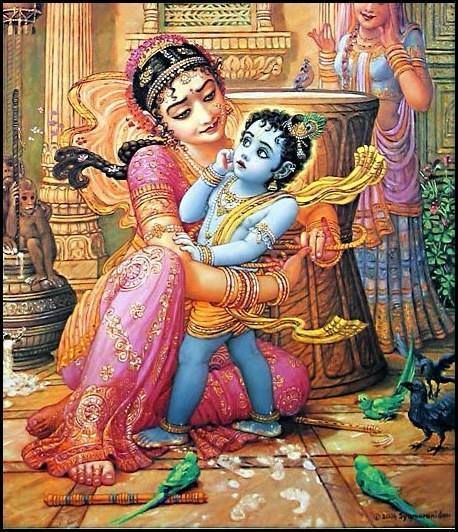 (©syamarani dasi, used with permission; wwwbhaktiart.net)
Login to post comments

6144 reads