WHAT IS REALLY IMPORTANT? and DEPRESSION AND SPIRITUAL GROWTH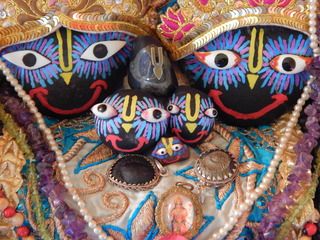 WHAT IS REALLY IMPORTANT? I have thought about and discussed this general idea many times, yet to me, it is always super essential, as what is important to us--really, really important, not just in theory, but what we feel in our heart and emotions--defines us and tells us where we are going in life. At one point in my life, having a relationship was my all defining absorption, and I was always on the lookout for that. At another time, finding myself materially--who I was in this body and what kind of work I should do, consumed my thinking and hankering.
Now, after many years of living, of finding what for me as been an ideal loving relationship, and my work as a writer, speaker, and healer, now, as I still meditate on death, even as my tumor is shrinking, I look into my heart beyond just wanting material desires that just go with my conditioned identity, or the lusts of the flesh, which I acknowledge as one part of me, but have done my best to make it only muzak in the background, I have to say that my devotion to Krishna is the most important aspect of my life.
I consider this the fruit of my years of practice, even though it has not reached the pitch of an all-encompassing, self-defining state, I still feel it, as I do during my worship and at times throughout the day as I pray and call out, "Please help me," or "Let me realize my full devotional potential and my service to others," etc, and it gives me hope of the person I am becoming. I want to give this energy and focus, and not merely the insanity and scandals of the larger world, or our devotional world. While I acknowledge that there are many important causes that need to be addressed, and I am glad that some people are, at this time in my life, I can't give them energy or much time, as I am in the state of living that "I may die today" (since I am still in cancer recovery), which has been so fruitful a mediation for motivating me to do what I know I must, as difficult as it is at times, since my nature is to be in the background.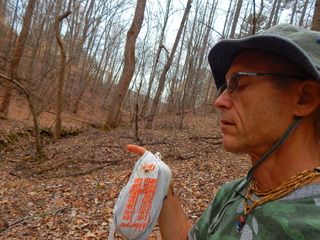 I share this with you, as always, to encourage you to examine your heart and ask yourself honestly what is most important in your life, and if you find it somewhat lacking or not in accord with your professed values, that you sort out your life, so you have a peaceful, supportive life, and can from that foundation, engage in intense prayer to be one with your ideals. From what I have shared above, most of us have to pass through many stages in order to really be focused and absorbed in our spiritual ideals. For example, when you look at the world what do you see? Opportunities for material enjoyment, or opportunities to deepen your spiritual practice or to share your spiritual joy and what you consider essential and practical spiritual life?
I don't mind admitting that I have both perspectives but that I value most my spiritual aspirations, as I know they are eternal and carry me to the next life and beyond.
DEPRESSION AND SPIRITUAL GROWTH: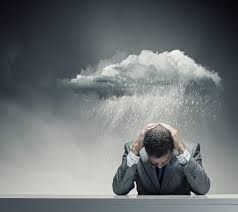 My wife and I and quite a number of devotees I know suffered from depression growing up. Although there are unique reasons for this with each person, from a spiritual perspective, depression and in fact many mental imbalances occur due to a disconnection from our soul's purpose. Our depression culminated in our existential crisis. We were naturally led on a spiritual quest to search out life alternatives to the materialistic direction promoted by our culture. Lending credibility to this idea is that our depression left us upon taking up spiritual practice.
However, in my current life, depression sometimes knocks on my mental door. When I am visited by depression it is often a call to action or to change course in my life. I am for the most part a positive and happy person, so when depression casts it dark shadow on my life and everything looks bleak, although I feel its sadness, I am able to not completely identify with it. Instead I ponder the meaning and what I am supposed to take note of. I wonder what I should be doing differently or what I am neglecting.


This happened a few days ago, and I was reminded that I have to be disciplined enough to write every day and to keep scheduling speaking engagements. This is still a struggle since being more of a public figure and promoting my talks and books is out of my comfort zone, and honestly, I am just plain lazy. Even though I feel called to write and speak, to do so, is also work. I am generally not that talkative and am the "quite type," which means I prefer to listen more than speak, which is perhaps part of the reason for my name. In any case, I struggle with this focus, but I have to follow my guidance--or risk being disconnected and depressed.
Keeping this in mind, I hope you will understand when I promote my books and recorded talks. They are my offering to you, and my service to Prabhupada and all my gurus in the mission of Shri Chaitanya and Nitai, the mercy incarnations giving us the holy name in kirtan and japa, Deity seva, bhakti scriptures, Vaishnava service and association, and all the bhakti practices.
My new book is now available in softbound and Kindle at Amazon sites around the world, and in a new weeks on all major eBook platforms. I am hoping you will purchase your own copy, tell your friends about it if it speaks to you, and leave a review. You can look inside the book on Amazon. It is one of the fruits of my cancer diagnosis. If you find the contents interesting, helpful--in the best world if even one poem is inspiring in some way--that will be even a greater fruit for me. I endeavor to be helpful and encouraging to you all. As we give so we are helped! Please let me know what you think after reading it. Many thanks for your kindness and support. Here is the link to my book on Amazon: http://www.amazon.com/My-Yoga-Expression-Musings-Meaning/dp/0996915621/r...
May we all encourage one another to follow our inspiration and personal life mission in relationship to bhakti, and in the process be the best persons possible. In a broad sense this is our empowerment.
Login to post comments

3647 reads