Blogs
Dallas Morning News,
(this blog is recorded on the full page: quick time player needed; works best with Firefox or Explorer)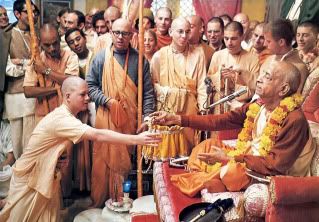 Although Krishna reveals in his Bhagavad Gita that the purpose of the Vedic wisdom is to know, remember, serve, and love him, this truth is also the most confidential knowledge, since readers of these texts are often attracted by lessor recommendations, like the attainment of heaven, or merging into his effulgence (Brahman). What qualification is needed to uncover this truth from the jungle of sounds of the Vedas, and take up this most confidential, though obscured, path of bhakti, the greatest and most valuable treasure? One would think that such a rare gem would only be available to the most qualified persons. However, by the mercy of Shri Chaitanya Mahaprabhu, this treasure is readily available, initially requiring only one's faith in the process. I use myself as an example to demonstrate this, not to say I'm great, but to highlight that I had no apparent qualification, and only have standing in bhakti by mercy alone. Thus there is hope for everyone.
The first time I spoke with devotees of Krishna I was very attracted to their peaceful, otherworldly, and joyful demeanor, and it was only a short time till I moved into a temple community to become a full time member. That might seem like a whimsical, spontaneous decision, but actually a lot of background took place which enabled me to do this. During the previous year, my life took a dramatic shift. I began an all-out quest to find the meaning of life, and my place in the world, concluding that I needed to become a monk in some tradition in order to immerse myself in spiritual practice.
How could this have happened to someone like me, who by all appearances was a very ordinary, not even religious, or observably pious, person—fallen even by Western standards?
Dallas Morning News,
Although I am from England and grew up as a Christian, I was always interested in Vishnu. When I became a Vaishnava I learned more about Vishnu from the scriptures. I have also raised my children on the same path. Here is a dramatic dance by my daughters Jahnavi and Tulasi, with Jaya Krishna Das. It describes the avatars of Lord Vishnu according to the early mediaeval song written by Jayadeva Goswami. You will hear me singing the song in the background.
(this blog is recorded on the full page: quick time player needed; works best with Firefox or Explorer)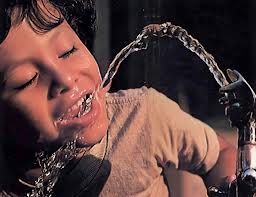 Two of the top difficult things to understand—out of many—for new readers of Bhagavad gita are the personhood of Krishna, and his Universal Form. Of course they are related, since Krishna reveals that the Universal Form comes from him, and is a manifestation of his energy as the material world. In particular this display of the Universal Form (there are others), though inspiring to show the greatness and inconceivableness of God, is also at times ghastly and fearsome, and as a form of time, "the destroyer of the worlds," all of which may be disconcerting. While Krishna is both the creation and annihilation of everything he is also the seed of all existence, the life of all that lives, and the soul of our souls, so we have to look at the whole picture before being able to evaluate who Krishna is.
Krishna could have demonstrated his nature as the creator and maintainer by showing baby animals, lovely human children, beautiful scenes in Nature, the universe being incredibly sustained and flourishing, but specifically to get Arjuna's attention, he wanted to encourage Arjuna in his duty of fighting by showing him that the great warriors he had to fight were already killed by Krishna's power--in fact we all must die, our bodies that is, at our allotted time. For conditioned living beings, the Universal Form teaches us that the material world is temporary, and not really suitable for eternal souls to live, since bodies, planets, and the entire Universe are constantly changing, and will ultimately be vanquished. The point is that Krishna is present in all things and, through his energy, is everything. His greatness is all-sided and unlimited, manifested in the subatomic dimension and as the whole universe—in the micro and macro-cosmic level. For us imperfect and limited souls, he can be experienced in what we can observe. Though we can't perceive his spiritual form, or even our own souls, we can, by the grace of the Bhagavad Gita, Shrimad Bhagavatam, and the mercy of the devotees who live by such revealed Vedic literature, "see" him, specifically in "…all opulent, beautiful and glorious creations…"[ Bg 10.41].
In what follows I will share some highlights of these manifestations of Krishna from the Bhagavad Gita, which is another version of the Universal Form, or Krishna's material form.
One thing about working at Krishna.com, you never know who's going to show up. I was going over the day's accounting tasks one day recently, and came upon a name that sounded so familiar to me. It was the same name as the person who had first introduced me to Krishna consciousness in a serious way, over 40 years ago, in San Jose.
Dallas Morning News,