Blogs
Dallas Morning News,
The other day I changed my FB background pic to one of young girls swinging Radha-Damodara in the woods. Some devotees (especially who've been there) clicked on 'Like' or commented. It occurred to me afterwards that FB is such an odd place, where all together are gathered those who are with you day by day, who share your Hare Krishna lifestyle (about 90%), and then there are those you know from elsewhere, such as family members and friends from high school days. How odd it must seem to them!
"When you get to the place where you would worry, stop and pray." (from Edgar Cayce, compliments of my daily calendar)
(this blog is recorded on the full page: quick time player needed; works best with Firefox or Explorer)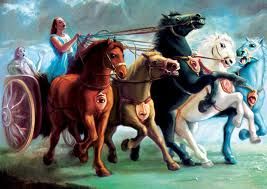 Reflecting on my life and the lives of those I know and read about, I see how much we all struggle with our material natures and tendencies, and how these can negatively impact our relationships with others. Even though we suffer on account of identifying with our bodies and minds, we remain attached to our limited perspectives or biased lenses, finding it difficult to accept that our entire problem of life is physicality. Ignorance is bliss runs the material world, and since we have invested so much time and energy in trying to enjoy worldly happiness, we don't want to admit our folly in its pursuit. This is why spiritual knowledge is so essential, and even more so, realization of these truths.
Stated another way, many people may casually understand that they "have" a soul, but few try to act as one, or make realizing their soul and its relationship with God their life's true quest. Genuine spiritual paths are meant to give us tools to realize our spiritual nature. In Gaudiya Vaishnavism, chanting the holy name and engaging in pure devotion (shuddha bhakti) are the means to uncover our soul and let it shine in love of Krishna. Material consciousness is muddy consciousness, while soul consciousness is like pure mountain water. This is why we speak often of "purification" when speaking about the effect of spiritual practices. Purification means taking away the mud of matter from our consciousness, so our real nature as willing instruments for divine purpose will gradually manifest.
The basics of bhakti are frequently repeated since the fundamentals need to be mastered before higher stages are obtained. While devotees of Krishna accept the fact that the ABC's of spiritual life involve realizing that "we are not the body," this isn't so easy, even after many years of practice.
Dallas Morning News,
(this blog is recorded on the full page: quick time player needed; works best with Firefox or Explorer)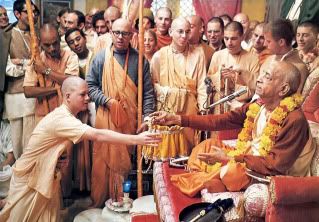 Although Krishna reveals in his Bhagavad Gita that the purpose of the Vedic wisdom is to know, remember, serve, and love him, this truth is also the most confidential knowledge, since readers of these texts are often attracted by lessor recommendations, like the attainment of heaven, or merging into his effulgence (Brahman). What qualification is needed to uncover this truth from the jungle of sounds of the Vedas, and take up this most confidential, though obscured, path of bhakti, the greatest and most valuable treasure? One would think that such a rare gem would only be available to the most qualified persons. However, by the mercy of Shri Chaitanya Mahaprabhu, this treasure is readily available, initially requiring only one's faith in the process. I use myself as an example to demonstrate this, not to say I'm great, but to highlight that I had no apparent qualification, and only have standing in bhakti by mercy alone. Thus there is hope for everyone.
The first time I spoke with devotees of Krishna I was very attracted to their peaceful, otherworldly, and joyful demeanor, and it was only a short time till I moved into a temple community to become a full time member. That might seem like a whimsical, spontaneous decision, but actually a lot of background took place which enabled me to do this. During the previous year, my life took a dramatic shift. I began an all-out quest to find the meaning of life, and my place in the world, concluding that I needed to become a monk in some tradition in order to immerse myself in spiritual practice.
How could this have happened to someone like me, who by all appearances was a very ordinary, not even religious, or observably pious, person—fallen even by Western standards?
Dallas Morning News,