Blogs
The songs of our great teachers (acharyas) instruct us about the character of those absorbed in transcendence. Thus we get a glimpse of their spiritual, compassionate vision--we can thus imagine what it must be like, and try to enter into it according to our capacity. They desire that everyone be overcome with the bliss of chanting the holy name of Krishna. This is true enlightened welfare work. Seeing the Universe's inhabitants as illusioned by the false promise of material enjoyment, Shrila Bhaktivinode Thakur, from his spiritual perspective, prays for everyone to lose all worldly desires by tasting the sweetness of Krishna's name (harinam).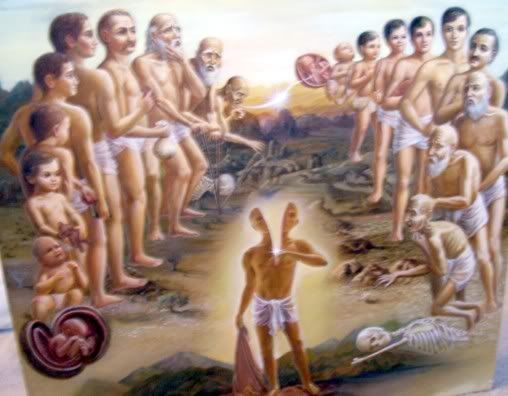 Understanding even in theory that our true identity is spiritual--eternal, blissful, consciousness--or said negatively, that we are "not the body", is the beginning of spirituality. Though considered basic or "elementary" in our progressive spiritual life, the fact that we are not the physical body or mind but consciousness, is a matter of deep realization to understand.
Walk the path of Bhakti with Bhaktimarga Swami or travel on an adventure with the famous chef Kurma Prabhu.
Learn how to make beautiful deity jewelry for your Gaura Nitai deities at home or find out what is the best recorder for recording beautiful bhajans from KrishnaGeeks.

What can I contribute to the family of the Earth, divided by gender,mentality, nationality, religion, or ethnic tradition?
By spiritual constitution we are all one--individuals of the same nature and family of God. We come into the material world and accept a false ego that tells us we are the material body, mind, intelligence and emotions, and that we should act for this selfish self interest. We believe we must compete with others for what we perceive as scare resources and facilities for survival and enjoyment.
At times we may feel like this: "How pitiful that although I believe in my and everyone's spiritual identity and also have experience of myself beyond the perishable body, I am still affected by the same selfishness."
A funny thing about Andra Pradesh and other states in South India, they have this saying. "We do not know what Krishna looks like. If someone thinks of Krishna the face that they see is that of NTR, Nandamuri Taraka Rama Rao."

Seeing Krishna is the perfection of the eyes
the soul is never satiated drinking that beauty
eyelids blinking seem like a calamity hiding him
as each moment is ever fresh, like our first, best love.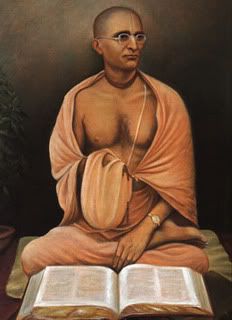 As aspiring devotees of Krishna it is essential that we have a philosophical attitude toward life, rather then only religious sentiments. Prabhupada's (my guru's) sannyas name--Bhaktivedanta Swami--teaches us that we have to have a philosophical understanding--Vedanta--as well as devotion--Bhakti. He taught us an important idea originally coined by Rabindranath Tagore: "Religion without philosophy is sentiment, or sometimes fanaticism, while philosophy without religion is mental speculation."
Is the time that I takes to read the entire Bhagavad-gītā As It Is

with Sanskrit verses, English verses and Srila Prabhupada's Purports.
People like happy endings in stories, books or movies. Some would say this is "human nature" but really the body is a reflection of the soul, and the soul is by nature happy. Since we identify ourselves as the body, our conditioned reasoning only suggests the body and mind and its extensions as objects of enjoyment. Unfortunately physical manipulation and stimulation does nothing for the souls needs.