Blogs
Who is the real Spider-man?  Who is the man behind the mask of maya?
Narada thought that it might be Brahmā. 
Dallas Morning News,
(this blog is recorded on the full page: quick time player needed; works best with Firefox or Explorer)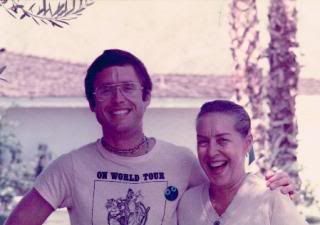 Monday, May 20th is the death anniversary of my mom. I usually post the blog I wrote a few days after she "left her body" (as devotees call death of the physical body, since the soul moves on) three years ago. Although, I'll give some links for a whole series of blogs I wrote around that time, I would like to express some thoughts for your consideration, and perhaps, for thinking of your own mom, or your relationship to your parents in general. One of the questions I am thinking about is: "How has your relationship with your parents affected your life in terms of your relationships with your spouse and children (if you are married), or to friends, people in general, or yourself?"
There are many events in life which are like initiations into stages of growth, the first being birth and the last death—the number and type of "initiations" in between those two periods are as individual as people are. For me, some of my significant growth opportunities were: moving from Los Angeles to San Francisco at four years old, the shock of going to Junior High School from a tightknit grammar school, when my parents divorced and I had to live with my father, when my High School met Haight-Ashbury (so to speak), or how I let hippiedom appear to torpedo my education but also lay the ground work for my spiritual quest, my second girlfriend, spiritual initiation at 20, my guru Shrila Prabhupada's leaving his body, marriage, the struggle to find an occupation, and to the point of this blog, the "death" of my parents.
I haven't spoken about my father's death, though I should, as he died by his own hand with a 38 Special revolver. He was obviously miserable, felt his life unmanageable, and had no spiritual knowledge to help him. Although I later went to the place where he committed suicide in an attempt to release his soul, in case he had a ghost body, his death was not as fortunate as my moms. I was able to surround her with prayers and a spiritual environment as she passed on.
In the course of a day here at BTG/Krishna.com, I was asked by my manager to go through some old BTGs. Doing so brought back a flood of memories. Here's one: in 1976, in July, there was a special issue focused on the theme that America was celebrating its bicentennial, having declared its independence from England on July 4, 1776. The cover showed a festive arrangement with the original American flag in the background, and a bright-faced young devotee in the foreground, singing.
(this blog is recorded on the full page: quick time player needed; works best with Firefox or Explorer)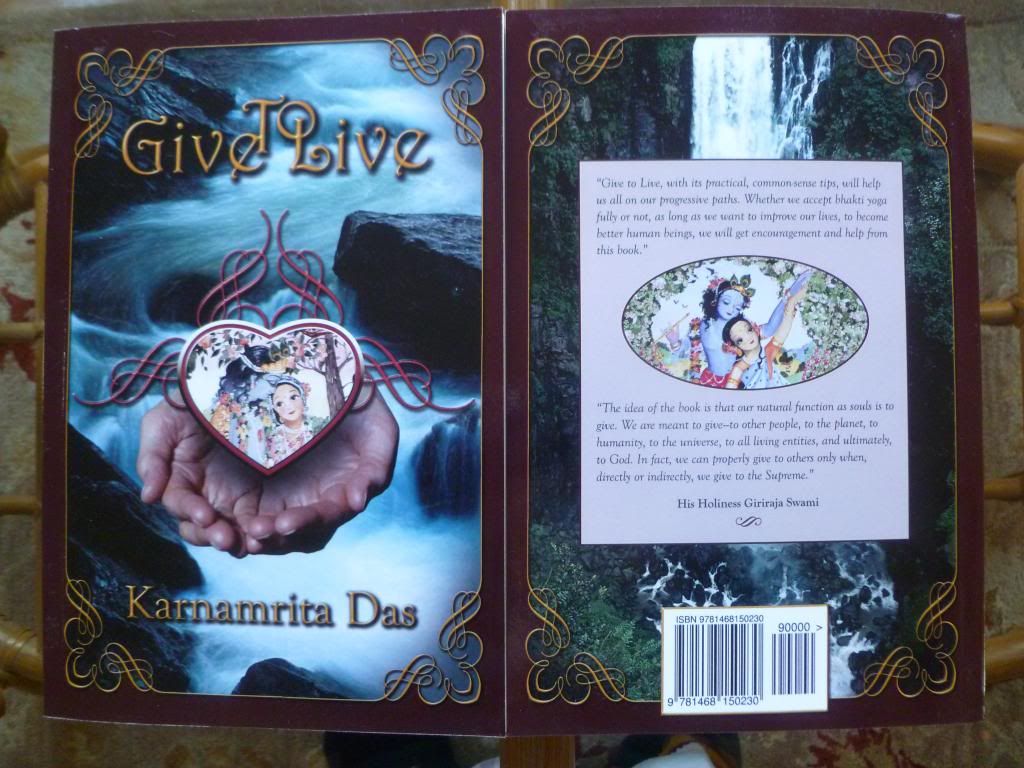 This was originally the introduction for Give to Live, but we decided to cut it, since the size of the front matter and whole book, had to be reduced. Still, I think it gives a good introduction for the book for those of you who don't have a copy. Adding further to the mystery of this piece of writing is that somehow it disappeared after being posted last week. So I am reposting it again. Do keep an eye on it for me. Additionally, there is a 15 video at the end giving a glimpse into the journey of creating the book.
As an introduction to my book, Give to Live, I am thinking about the blessing (or curse) of being a writer. Part of being a writer is the desire to share experience, which is equally true of photographers, artists and the like—people who try to share their perceptions, feelings and thoughts with others through some different medium of one or more dimensions. Yet, sometimes thinking of an experience (or extracting the creative angle) as it is happening makes one less present in the moment. I have taken photos and videos at some temple functions, and felt like I missed the whole thing!
My usual means of sharing experience is what you are reading—words. I think I am very balanced in my "observer's eye" in that I really have to work at turning it on. It doesn't come that naturally for me like with some writers. A friend sent me a book about a poet/gardener now in his 90's who has always loved words, and writing about nature and his garden. His mood of observation and being in the moment is very impressive to me, as I was such a dull, unobservant, and uncreative child. In my current "later years" I am much more present than I could have ever dreamed as a child, though still very inferior to this poet! It is always good to take the humble position regarding our Krishna-given abilities. We are always dependent on His mercy and help in any endeavor and yet we will always find people much better than we are in anything we do. Never the less, that doesn't mean we shouldn't try to use our talents and desires in the service of the Lord, his devotees, and people in general.
(this blog is recorded on the full page: quick time player needed; works best with Firefox or Explorer)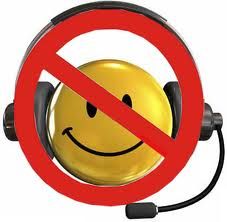 Restrictions, limitations, impositions
though my heart doesn't like them
the rules of the body and mind
embodied by suffering souls
with difficult pasts and issues
my own and others combined
bring me pain and regret
that they can't deal with me.
The Bhagavad-gita says unsuccessful yogis take birth in rich families. We've see some devotees who seem to fit that description. They're born in wealthy families. They don't have to scrape by. They have the leisure to inquire and to devote themselves entirely. Sometimes I think, "Well, they're renouncing and surrendering completely because they can afford to. Most of us have to make money."

Of all the things people look for on our beach, sharks' teeth are by far the most coveted. In all my time here, I think I've seen almost one shark's tooth. They're tiny and black, the way your teeth would probably be if all you ate was seafood and never brushed. It's a blessing that nature gives them multiple sets.
(this blog is recorded on the full page: quick time player needed; works best with Firefox)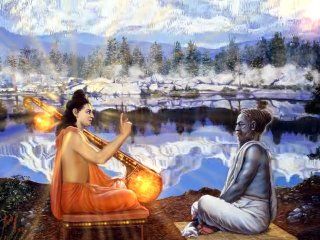 One of the principle ways we make spiritual progress in unalloyed devotion (uttama bhakti) is by saintly association, or sadhu-sanga. We are advised in the Vedic scriptures to not just see a saint, but to hear from them. In a general sense we tend to become like persons we spend time with, and specifically if we associate with saints, we can be affected by their faith, taste, and spiritual standing, according to our receptivity and the condition of our spiritual heart. This means that to actually benefit from the company of a sadhu, or sadhvi, we are required to carefully listen to their realizations with faith, and thus appreciate them beyond external appearances, or without our ordinary worldly judgment of attraction or repulsion based on the desirability or undesirability of the body, or personality. We may, by conditioning, upbringing, or religious bias, think a saint must appear or speak in a certain way, or be a particular age, gender, race, ethnicity, religion, sect, or any numbers of what are actually material conceptions, rather than the primary quality of purity and spiritual standing.
Another way of saying this is that we may construct, even unconsciously, a particular external criterion, or lens, for recognizing a saint which has the undesirable effect of excluding persons who don't fit what may be a rigid conception from ecclesiastical edicts, or bad or limited experience. Human beings seemed wired to simplify things through labels, like creating an internal file cabinet with so many folders. Thus we create one folder for saint, and other for non-saint. Then we don't have to think about those in the non-saint box, since we believe they are a known quantity with so many reasons not to listen to them.
According to Shrila Rupa Goswami in his UpadeshAmrita text 6, a pure devotee may have a "body born in a low family, a body with a bad complexion, a deformed body, or a diseased or infirm body," or, we may infer, have mental quirks or personality eccentricities. He compares such a pure devotee to the Ganges River, which during the rainy season may contain bubbles, foam and mud, and yet is still considered pure.