Blogs
Dallas Morning News,
I was chanting japa around the fountain at the Alachua temple with Mahatma Prabhu. He told me a few things about chanting:
"This mantra is dangerous. It will make you want to renounce the world." And,
As ancient warriors would saturate their arrows with mantras so that they would produce extraordinary and supernaturally lethal effects when released, we have to saturate ourselves with mantras every morning or our activities will not have such a great effect.
Sivarama Swami is absolutely right when he says chanting while sitting is best. Chanting while walking requires navigation, and that takes energy and focus away from the Holy Names.
For instance:
"Christ is the visible image of the invisible God. He existed before anything was created and is supreme over all creation,"
Colossians 1.15
New Living Translation (©2007)

I live by the beach. Whenever it's low tide, I chant my rounds up and down the shore. Our beach isn't popular for swimming — no soft sand, only endless dunes of broken seashells, which can easily puncture bare feet. It attracts only locals; dog walkers, shark tooth collectors, and a few fishermen.
Dallas Morning News,
(this blog is recorded on the full page: quick time player needed; works best with Firefox)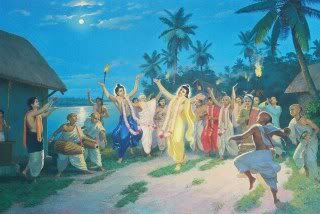 43 years ago, from out of the blue
a radical change took over me
everything else fell away:
girlfriend, college, bad habits;
giving away my possessions
spiritual thirst became my life
ancient wisdom informed me
the forest my classroom study
my heart yearned for truth
my prayers to transcend the world
I thought, "I must become a monk"
Shri Chaitanya answered me
thru Prabhupada's loving disciples
the holy name knocked at my heart
through tumultuous street (san)kirtana
inspiring me to follow their example
I began my journey with japa.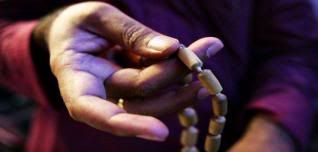 By the mercy of His Divine Grace Srila Prabhupada and my Guru Maharaja, I received the inspiration to serve the ISKCON Prison Ministry. On Vyasa-puja day, while chanting myjapa, the inspiration came to me to serve in the prison ministry. Interestingly enough, at that time I didn't even know the prison ministry existed.
I researched the internet, saw on the web site a request from IPM for volunteer pen pals. I thought this was an easy service, one I would enjoy and could do from the comfort of my home and in my