Blogs

Dallas Morning News,
I have to be honest. I'm looking towards the end of this month with dread. The US Post has announced a rate increase, and it looks like it's going to be a big one. If only we were up there with the likes of Amazon.com, it wouldn't matter so much. But we're just Krishna.com.

Dallas Morning News,
(this blog is recorded on the full page: quick time player needed; works best w/Firefox)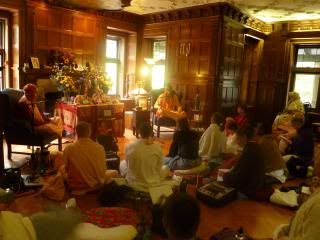 Will I survive or perish?
Fighting for each step
on the road of cleansing —
howling wind-spirits push me
flaming tongues burn my feet
the abyss beneath beckons
lusty beings offer temptations
demons create obstructions
relief is promised if I give up.
Grasping the sword of Truth
I move the demons backward
ignoring obstacles surrounding me
slowly progressing toward freedom
if only I can stay awake