NityānandaChandra's blog

Dallas Morning News,
by Srila Saccidananda Bhaktivinoda Thakura (1838 –1914)
This is an excerpt from the Hari Bhakti Vilasa: Sri Janmastami Vrata Fifteenth Vilasa, Volume Two beginning with text 249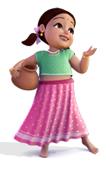 As the days get closer and closer to Janmastami our temple and activities become busier and busier.   Last Saturday morning I performed a Nam Karan Yajna, a ceremony by which the newborn baby's name is decided.   The name chosen was Lalita Devi, the dear friend of Srimati Radharani.   The baby was born during Ekadasi last month right near the Visakha Nakshatra (Visakha is the dear friend of Lalita) and later on found out that
A few weeks ago I posted an article about Tilaka.  In this article Srila Prabhupada was quoted saying,
The baby grabs the surgeons fingers
July 22nd, 2011
An article sent  by Kesava Bharati Maharaja
Read before looking!
Please read before viewing the picture – it's worth it. A picture began circulating in November. It should be 'The Picture of the Year,' or perhaps, 'Picture of the Decade.' . The picture is that of a 21-week-old Unborn baby named Samuel Alexander Armas, who is being operated on by surgeon named Joseph Bruner.