NityānandaChandra's blog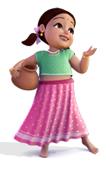 As the days get closer and closer to Janmastami our temple and activities become busier and busier.   Last Saturday morning I performed a Nam Karan Yajna, a ceremony by which the newborn baby's name is decided.   The name chosen was Lalita Devi, the dear friend of Srimati Radharani.   The baby was born during Ekadasi last month right near the Visakha Nakshatra (Visakha is the dear friend of Lalita) and later on found out that
A few weeks ago I posted an article about Tilaka.  In this article Srila Prabhupada was quoted saying,
The baby grabs the surgeons fingers
July 22nd, 2011
An article sent  by Kesava Bharati Maharaja
Read before looking!
Please read before viewing the picture – it's worth it. A picture began circulating in November. It should be 'The Picture of the Year,' or perhaps, 'Picture of the Decade.' . The picture is that of a 21-week-old Unborn baby named Samuel Alexander Armas, who is being operated on by surgeon named Joseph Bruner.
In the Vaishnava tradition devotees wear the urdhva pundra made of gopi chandan commonly known as tilak. 
"Tilaka means victory personified." (SPL to Tilaka devi dasi,)
As long as the jīva takes full shelter of the Supreme Lord he remains a resident of the spiritual planets, but when he forgets the innate spiritual knowledge about the Lord he is placed outside the transcendental realm. The jīva is compared to a ray of the sun, but under the cloud of maya, or the illusory energy, his conditioned state is an unconstitutional and hence unnatural term of existence.
Taking the advise of my dear Godbrother Omkara I gave this Sunday Feast class on the entire 7th chapter of the Bhagavad Gita As It Is. by Krishna's and Guru's grace all verses were recited from memory.
Sunday Feast Class - Bhagavad Gita Chapter 7
Hare Krishna
Your humble servant,
Nityananda Chandra Das
Login to post comments

2280 reads
Q. Prabhuji, I am asking your personal opinion on book distribution in big cities in Texas. Dhoti/tilak or jeans/pullover for showing BBT books to public. A senior book distributor devotee recommends looking like Joe Public or a yoga student to show Prabhupada's books?
Here is my reply: