Alachua's Krishna-Balarama Deity Installation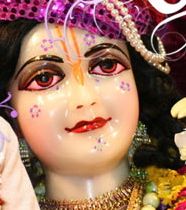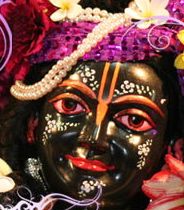 from an ISKCON News article by Madhava Smullen
"It is so nice to see so many young boys and girls here chanting Hare Krishna in this remote corner of the world, so far away from the birthplace of Lord Chaitanya." —Srila Prabhupada, speaking in Gainesville, Florida in July 1971.
Today, Gainesville doesn't seem so remote—at least in ISKCON terms. Its Krishna Lunch program serves thousands of vegetarian meals to University of Florida students each week, while almost every devotee in ISKCON has heard of Alachua's New Raman Reti temple—fifteen miles north of Gainesville—that is surrounded by the biggest Vaishnava community in North America.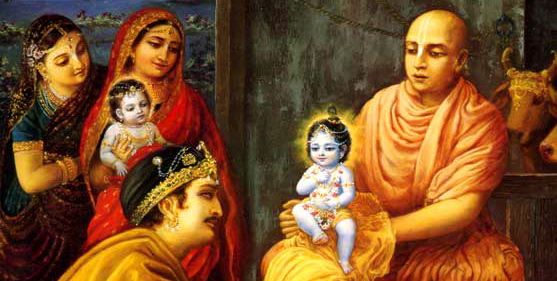 And this summer, Alachua will be hosting one of the year's biggest ISKCON festivals—the installation of Sri Sri Krishna Balarama; the Supreme Personality of Godhead and His eternal elder brother. They will be joining already installed Deities of Gaura-Nitai and Radha-Shyamasundara, making New Raman Reti home to the same Lords who preside over ISKCON's Krishna-Balarama Mandir in Vrindavana, India, where the original Raman Reti lies and where Krishna and Balarama once played in white sands over 5,000 years ago.
Temple president Mukhya Dasi expects several thousand devotees from all over the United States and some from around the world for the event, which will begin on Saturday May 29 and lead up to the grand installation on Sunday May 30.
"This is a special opportunity that we think will draw many devotees who wouldn't normally visit for our annual festivals," she says. "It's a very rare thing in ISKCON these days to see big Deities be installed—especially Deities of Krishna-Balarama. In fact, for many of us older devotees, it may be the last installation we'll see in our lifetime."

Both days of the festival will be packed with special worship ceremonies, to welcome the Deities into Their new home.
On May 29 devotees will request permission from Srila Prabhupada to perform the installation, take ceremonial vows over a sacred fire, use Neem leaves to invoke auspiciousness and keep malefic influences at bay, and perform Sayana Adhivasa, in which the Deities will be laid to rest on a bed of grains and kusa grass for the night.
On May 30, Dvara Puja—establishing the understanding that there is no difference between the altar and the Lord's own personal abode—will be observed, as will Prana Pratistha—formally requesting the Lord to enter the Deity form and accept worship. Also performed will be Netromilinam subhadrsti, in which priests request the Deities to open Their eyes, and Abhishekha, during which everyone will get a chance to bath Krishna and Balarama with milk and rosewater. Finally, devotees will carry the Deities in a procession to the altar.


New Raman Reti event organizers are also planning more activities and entertainment than they have for any other festival before. The main stage on the field in front of the temple will feature an eclectic mix of local talent, including dance performances by students of the famous Bhaktikalayam Dance Academy, a magic show, and plays by children of the New Raman Reti Day school, while special activities will also be organized for the children themselves.
"We're trying to really create an atmosphere where the kids will feel included and excited," Mukhya says. "We'd like to make the weekend a wonderful memory for them too."
"New Raman Reti is a unique ISKCON community, in that it has almost 500 congregational families and three generations of devotees," says Mukhya. "All of whom, no matter what their level of commitment to spiritual practice, are bound together by the Deities and the temple's high standard of regular worship. And the beautiful rural setting—similar to what the original Raman Reti was once like—is, we feel, the ideal place to worship Krishna-Balarama. So we're welcoming everyone to come and experience this wonderful event, and to be our guest."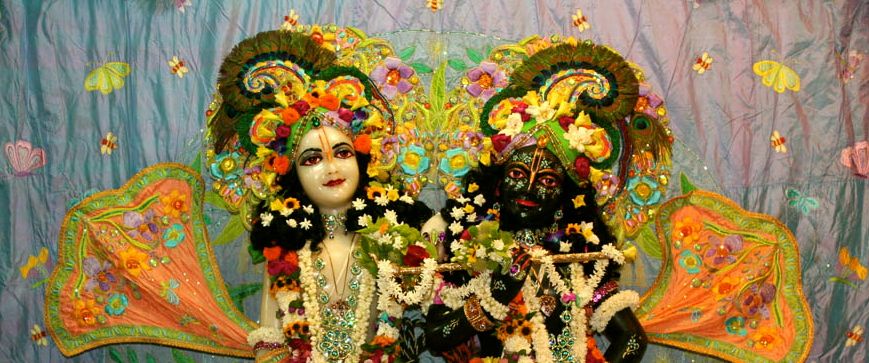 From Single-Wide Trailer to World-Wide Fame
Of course, New Raman Reti has not always been the largest ISKCON community in North America. From 1977—when Ritadhvaja Swami signed the purchase agreement for the 127-acre farm—until the mid 1980s, it was home to a maximum average of only twenty devotees. And the temple, in which the current large Deities of Gaura-Nitai were worshipped, was a single-wide mobile home with a small extension built onto it.
It wasn't until the ISKCON boys' boarding school in Lake Huntington, New York, moved to Alachua, followed a couple of years later by Laksmimoni Dasi's girls' school, that the community began to grow dramatically.
"Suddenly, families from all over the country and the world were moving to Alachua to place their children in our schools," recalls former temple president Nanda Dasi. "New Raman Reti kept growing until finally in the 1990s, we began building the present temple, which opened in 1994. Soon, devotees began to suggest that we should install Radha-Krishna Deities. Others countered that we were not yet ready, however, and a debate began."
But Radha and Krishna Themselves were ready.
For when Jalakar Dasa, who had moved to Alachua from England, visited home to attend Radha- Londonisvara's anniversary celebrations, an astonishing opportunity landed in his lap.
In his address to the crowd one Mr. Goyal, who back in the 1970s had personally donated Radha-Londonisvara to Srila Prabhupada, expressed his joy at having done this service and announced that he would be glad to once again sponsor Radha-Krishna deities for any temple in ISKCON that required them.
No official decision had yet been reached back in New Raman Reti—but for Jalakara, the opportunity was too good to miss. "We would like Radha-Krishna deities for our temple in Alachua, Florida," he said, piping up from the audience.
True to his word, Mr. Goyal paid for Radha-Shyamasundara, and Jalakar arranged for Them to be shipped to Alachua.
"Even as They were on their way to us, we were still arguing about whether or not we were ready for Radha-Krishna deities!" Nanda laughs.
When Radha-Shyamasundara arrived, of course, the devotees were excited and glad that the Lord had made the decision for them. But there were other concerns. The temple room had only only one altar, for Gaura-Nitai, and the devotees didn't have enough money to both build another one and to hold a festival for Radha-Shyamasundara's installation.
"We didn't know how we were going to do it," Nanda says. "Then, out of the blue, two devotees, Radha Jivana Prabhu and Ambarisa Prabhu, attended a board meeting. One of them told us that if we moved forward and installed Radha-Shyamasundara, they would donate $21,000 for the festival. The other said, 'And I'll match it." So we suddenly had $42,000 to build new altars—we decided to make an even three—and throw a wonderful festival."
During Radha-Shyamasundara's installation festival in the year 2000, Vidyananda Dasa, a New Raman Reti resident, approached Nanda Dasi. "We should install Krishna-Balarama on the third altar," he said excitedly.
Just as Radha-Shyamasundara had finally come to Alachua when one devotee made a move, Nanda encouraged Vidyananda to arrange for Krishna-Balarama Deities himself.
So he did, sponsoring Them and requesting Deity expert Sitala Dasi to have Them carved in Jaipur and sent to Alachua.
The process was not a quick one. The artisan carving the Deities was famous for taking a long time, and had to carve Sri Balarama twice when his first attempt revealed some discoloration in the marble. Finally, however, in 2002, Krishna and Balarama arrived in Alachua.
But the temple did not yet have the facilities to accommodate Them. "Our pujari (priest) room was too small to care for two more sets of Deities—Krishna Balarama and Their small forms," says current temple president Mukhya Dasi. "So for several years, They remained in 'suspended animation' while we worshipped a small Deity of Lord Nrsimhadeva on the third altar."
At last, however the strong desire of the devotees began to pay off. "When you really want to do something wonderful for Krishna, He makes it possible," Mukhya says. "So even with the economy hurting, and devotees hurting financially, we managed to raise enough money to make the necessary changes to our infrastructure."
At present, the finishing touches are being made to a brand new kitchen building which will better serve the always-growing New Raman Reti community, while the temple's old kitchen will soon be vacated to make space for an extended pujari room.
Meanwhile, the community is vibrating with excitement at welcoming its new Lords.
"Balarama is known to be very merciful, so I think the devotees here will receive a lot of special mercy," Mukhya says. "We're just waiting to see what form it will take!"
If you would like to visit Alachua, Florida this May 29 - 30 to attend the Krishna Balarama Installation Festival, please visit newramanreti.com/festival to find information on lodging, directions, transportation and more.
Read more at ISKCON News.