The Bhagavad-gita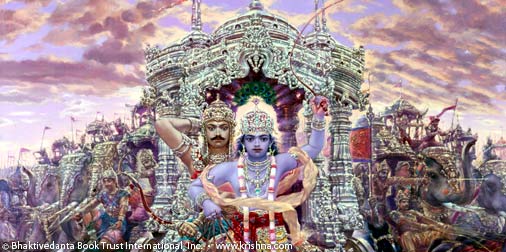 Krishna Himself came to this world 5,000 years ago and spoke Bhagavad-gita to His friend Arjuna.
At the last moment before entering a momentous battle, the great warrior Arjuna began to wonder: "Why should I fight? What is the meaning of life? Where am I going after death?"
In response, Krishna brought His friend from confusion to spiritual enlightenment.
The Gita contains detailed explanations of the infinite soul (God), the finite soul (the living entities), karma (work in this world), time, and creation, and concisely explains the nature of consciousness and the universe—all in a relatively short seven hundred verses.
Bhagavad-gita is in a category of its own in philosophy and theology. It has been pondered and deeply admired by philosophers and scholars around the world for centuries. It is considered the essence of India's spiritual wisdom. For anyone interested in understanding the soul, God, and the intimate relationship between the two, the Gita is an essential introduction. The text is incomparably deep and sublime.
Learn More…