Rite of Passage--A call

Moving from one dimensional
to multidimensional,
from enjoyer or exploiter to Giver
the responsibility of elder.
60 is the age of elder
though whenever called after 50,
requires confronting core issues--
impediments to service as elder and healer.
Same issues as always
but now an urgency,
the last third of life
the inner push of responsibility.
Standing at another crossroads
forced to make decisions,
having to grow up
transcending being a "man".
Modern man's illusion
of sexual prowess,
world domination
and control of others.
Young babes an object
to "love" and enjoy,
the world as "mine"
to exploit as I choose.
Bodily identification
is sleep for the soul,
and whatever feeds that
has to be let go.
Teaching by example
stronger than words,
so to walk my talk
I must embody my path.
Not a question of "shoulds"
but a way of being,
giving equally without material
consideration of good or bad.
Connecting soul to soul free
from material attraction/repulsion,
unconditional love and giving
not seeing a possession.
Standing at proverbial cliff
chased by demons:
hesitancy, lust and delusion,
I have to jump or perish.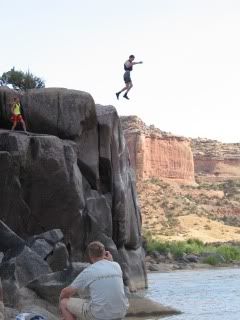 Login to post comments

2908 reads