Kindred Spirits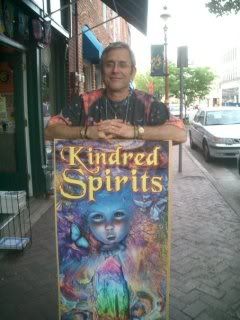 I am working at some dear devotee friends New Age store [one of whom blogs here---Dulal Chandra], learning the ropes so they can travel to the holy Dhamas in India next month. I haven't been able to come here much since I get home late and sometimes still have phone counseling sessions to do with my wife. I see that there has been plenty of action in the last week, with nice blogs by Navasi, Rasa, Gopi, and Nityananda Chandra, which are attracting a good audience. I know our readers on Connect are in good hands, being nourished with thoughtful and Krishna conscious blogs with discussions.
I plan to blog occasionally when I can, though for awhile that won't be as frequently as before. Next month after the Christmas season is traditionally slow in the retail world, so I am hoping to be able to write at work. We shall see.
As far as my work in the store, I am really quite at home with the "New Age" crowd. Although into many things, and sometimes eclectic, they often have the good qualification of being open to Krishna as well. Amidst incense, candles, personal growth books, jewelry, crystals, singing bowls, Tibetan peace and other flags, cards, angels, fairies, gnomes, Wican, Taro, Buddhas and many Devas, there are also beautiful Deities and paintings of Radha-Krishna and Gopal Krishna, as well as Vaishava literature.
The store is really an opportunity for people to come into contact the well wishing of devotees. If we can respect others, show sincere interest, and exemplify good Vaishnava qualities then they will at least respect our path, and sometimes try it on for size. Due to how the customers are treated----nurtured by the owners with love, concern and respect, they come to hear traveling sannyasis and other devotees at home programs. We also have weekly Bhagavad-gita classes with kirtana where those more serious can cultivate their bhakti.
So I plan to share with you some of my experiences working here, and also my realizations about the people I meet. People are fascinating, and I have the opportunity interact with many sincere seekers, and sometimes to attract forgetful devotees back to their bhakti path. We don't make devotees as much as we find them, and help uncover their unfinished bhakti from previous lives. Krishna kindly reciprocates with our desire to help others by providing us a way to share our taste for bhakti yoga or Krishna consciousness.
Login to post comments

2757 reads