Feeling Incomplete and Unfulfilled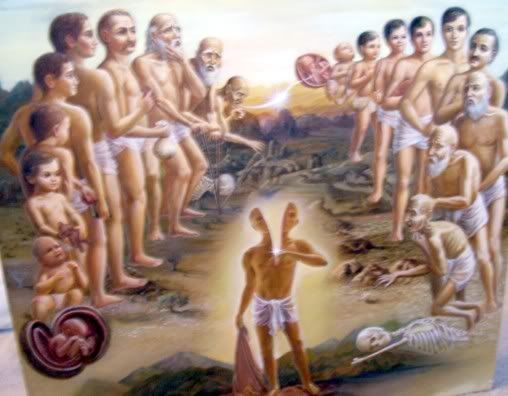 Understanding even in theory that our true identity is spiritual--eternal, blissful, consciousness--or said negatively, that we are "not the body", is the beginning of spirituality. Though considered basic or "elementary" in our progressive spiritual life, the fact that we are not the physical body or mind but consciousness, is a matter of deep realization to understand.
Experience has strongly demonstrated through the example of many devotees, that it is not easy for souls conditioned by the material laws to act on the soul platform. I am sure that it sounds funny or strange to most people that the source of all our misery and troubles is the fact that we have a material body, senses and mind.
What we are forced to do by the laws of nature to keep the body alive and try to find fulfillment through, we are conditioned to think is enjoyable. That is called illusion or maya. We have a desire that needs to be fulfilled--like hunger, thirst, sex etc, which are considered a type of misery by the Vedas, and when we obtain the needed substance we feel relief. This is material pleasure.
We are bound up by the laws of nature with bodily inclinations, or likes and dislikes, yet think we are free to act as we please. It is a very narrow pleasure. We feel incomplete and we think meeting the needs of the body or wants of the mind will complete us. Perhaps temporarily they do, though not ultimately, and the Vedas encourages us to see the big spiritual eternal picture.
In addition we don't know that the real problems of life are disease, old age, death, and rebirth. These ideas of change, beginning or demise are all foreign to the eternal, unchangeable soul. Matter is a confusing place for the soul, contrary to our true nature. Our forgetfulness caused by plugging in to the material matrix clouds our true innate spiritual knowledge. Developing spiritual reasoning will greatly help us make sense of life in the material world. Spiritual life is about waking up from sleeping condition of egotism, where we think everything revolves around us and our desires.
For most people it is difficult to understand themselves as anything other then they who they think they are in this human body--and certainly not an animal or plant. We think we are humans and others are animals or plants. Never-the-less we can try to imagine the nature of the soul with no need of physicality by hearing about it from the Vedic perspective. As human beings our advanced power of reasoning and potential for self awareness is meant to aid the soul realize their true eternal self and relationship to the Supreme Spirit.
We are strangers in strange material land, a spiritual fish out of eternal spiritual water who is now on the dry material desert island. Our soul in her spiritual home is like water flowing happily, naturally along in relationship to God, who we are part of. The soul in bondage or conditioned by matter is like ice, or frozen and limited. Think about the utility of water and ice. The use of ice is very limited, while water has many, many uses. And the nature of water is to be liquid. The nature of the soul is to be free and full of love and happiness.
A very essential idea in understanding the real nature of a soul--our true self--is "sanatana dharma". Prabhupada explains it very well in his Bhagavad-gita As It Is Introduction. Sanatana Dharma or our essential or eternal nature or activity has been referred to by Prabhupada as our "constitutional nature" as souls. It is not a material faith or belief but the nature or "occupation" of the soul, which is service or being of a giving nature to God and others. We are a spark of God. Although he is the "master" or supreme controller of everything, he is also the greatest giver sustaining the Universe. Therefore sharing his nature, we are meant to give to live.
Looking at our knowledge of things within our experience, we could say the nature or dharma of water is liquidity, the dharma of fire is heat and light, of sugar, sweetness, or of lemons, sour or tart etc. Everything in existence has an intrinsic nature or qualities that allow it to be known, at least to some extent.
Although materially or physically we have a bodily nature that we need to acknowledge and work with, it is only temporary. Even by knowing our physical nature and being in harmony with it, we, the soul, won't find the happiness and fulfillment we require. This is really the point to consider: our soul requires a spiritual means of nourishment or "spiritual food" in order to be complete and truly fulfilled. Giving only to the body, mind, emotions, and intelligence of ourself or others, is only a shadow of real spiritual, selfless giving. It can be the beginning of spiritual giving as in selfless giving to others.
By studying the world we find hints of our real nature of service or giving. We all render service to others, whether President of the USA, politician, or a mother, father, child, employer, employee etc. If nothing else we must serve our bodily necessities as our very existence is threatened by non-existence. The Bhagavad-gita teaches us that the soul is active by nature. Therefore we see people are busy doing things to be happy. The question is what can we do that will bring us the lasting happiness we all seek.
If we really believe we are a spiritual being having a human experience we need to understand what the purpose of our being in this temporary foreign place is. Krishna consciousness or bhakti-yoga, amongst other paths, teaches us this supreme truth or great life secret, that we are meant to be cooperators with God. We are never independent of him, though our ego believes it is. In Gaudiya Vaishnavism we learn that we are souls who are meant to serve or give back to our Source or God--who we refer to as Krishna and Radha--the Supreme God and Goddess.
Chanting the Hare Krishna maha-mantra and engaging in spiritual devotional service facilitates the realization of this fact. When we act on this principle of service to God and his dear servants or devotees, we will experience our spiritual purpose and completeness. Forgetting this we continue birth after birth searching in vain for completeness in an incomplete, external world.
"The Personality of Godhead [Krishna] is perfect and complete, and because He is completely perfect, all emanations from Him, such as this phenomenal world, are perfectly equipped as complete wholes. Whatever is produced of the Complete Whole is also complete in itself. Because He is the Complete Whole, even though so many complete units emanate from Him, He remains the complete balance." Shri Isopanishad Invocation
For the purpose of this blog we can add here, that we will realize our completeness when we serve the complete whole. Prabhupada says this at length in his explanation to this verse.
Login to post comments

3022 reads