The Kirtan Avatar—Shri Chaitanya Gives Divine Love
(this blog is recorded on the full page: quick time player needed)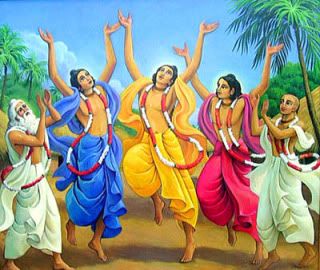 [I am reposting this blog from 3-6-12 which includes not only a general introduction to Shri Chaitanya, but also, in the comments section, many prayers and pastimes.]The appearance day of Shri Chaitanya Mahaprabhu has come upon us with the rising of the full moon. Those unfamiliar with the significance of Lord Chaitanya, and/or who want to gain a deeper appreciation for Him—not just intellectually, but practically, personally, and factually within themselves, are recommended to not only study about His life and teachings, but to also chant the Hare Krishna mantra very intently in personal meditation (japa), or with others in loud, melodious song and dance, sankirtan. The ideal environment for this is with those of faith and spiritual standing in the practices Shri Chaitanya taught. If this is not available, you can create a sanctified area in your home, dedicated solely for spiritual practice, praying for good association. The real fruit of knowledge is receptivity, and inspiration to engage in loving devotional service, and chanting brings about both, as it is the means and end of perfection. My teacher, Shrila Prabhupada, using the idea of science to verify theories by experiment, often encouraged us to experiment with chanting.
Prabhupada personally experimented with the holy name when he came first came to the United States in 1965, by chanting with those who had no background in Krishna consciousness, or the Vedic conclusions. Due to his spiritual purity, desire to help others, empowerment by Lord Chaitanya, and full faith in the power of the holy name, his experiment with the Hare Krishna mantra succeeded beyond his wildest dreams. Many souls were touched by the ecstatic practice of glorifying and remembering Krishna though chanting, and as they awakened, they further advanced by following Prabhupada's lead to encourage everyone to chant the holy name. They took to the streets in sankirtan to share their good fortune since Shri Chaitanya taught that the more the chanting of Hare Krishna is distributed, the more its potency increases!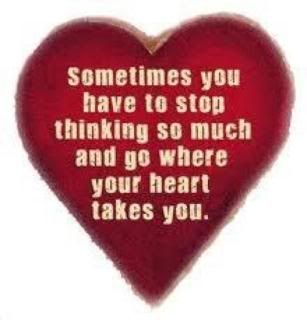 Our early spring in the Southern United States, is a good metaphor for the appearance of Shri Chaitanya Mahaprabhu in our lives, as He may surprise us in unexpected ways, with early blooms of our divine, beautiful spiritual potential. Known in our tradition as the most merciful or "munificent" aspect of God, Shri Chaitanya is worthy of our attention in order to deepen our understanding of the exceedingly valuable and rare gift He came to give: divine love (prema) for Krishna. Most of us have heard the popular saying that "love makes the world go 'round," so it should be no surprise that the purest divine love is the energy that sustains spiritual life, and what attracts Krishna. Love of Krishna is considered even more powerful than Krishna, since it attracts Him, impelling Him to give Himself to those who love Him! Krishna is the Lord of love and the supreme taster of its nectarean mellows (rasaraja), and so he is supremely moved by pure love.
We may note that material love is compared to iron, whereas prema is compared to the purest, rare gold. Material love means selfish, self-centered, conditional love, though there are gradations. The selfless love of a mother for her baby gives us a clue of the nature of spiritual love, which has no conditions or thought of personal gain, and is directed to the Supreme Lovable person, Krishna. The gopi cowherd girls in particular, as spoken about in the superlative devotional scripture Shrimad Bhagagavatam, have been acknowledged by Shri Chaitanya as the greatest lovers of Krishna. They were willing to forgo everything to please Him, giving up their homes, families, reputation—everything—when called by His flute song to share their hearts with Him. Those who follow such great lovers of God, make their primary object of affection and love, Krishna, and those who are dear to Him. All other loves revolve around this center, and thus a pure devotee loves everyone and everything in relationship to their source, the love of their hearts, Shri Krishna.


Sometimes it seems curious that we don't give more emphasis in our outreach or classes about Lord Chaitanya, since He is the incarnation of God for this age, the originator of the principle means of self-realization (congregational chanting of the holy name), and the mercy upon which we know anything about the deeper, esoteric aspects of Krishna. Thinking about this, it seems to me that if Shri Chaitanya appears to be in the background, it is due to his particular mission, and spiritual nature. He is considered a hidden avatar who is only indirectly mentioned in the Vedas, and His lila, or divine play, is that of a devotee of Krishna--although a super-extraordinary one. In the last years of his life He was a divine madman in rapturous love for God, unparalleled in any religious literature in the world.
Specifically Chaitanya Mahaprabhu is not only God, as wondrous as that is, but is Krishna Himself in the mood of Shri Radha, His greatest devotee and other Self. However, despite his unique spiritual position, His personal practice would be to always deny His divinity since that was contrary to his mood and purpose. In addition, had He expressed His divinity openly, that would have encouraged some philosophers to use His example to rationalize their shallow view that through Vedic knowledge a human being realizes their identification with God in all respects (the monistic conception). The goal of such persons is not devotional service, but is merging into the impersonal Brahman effulgence (the white light of Spirit in some traditions).
Since Shri Chaitanya is Krishna in the mood of His greatest devotee Radha (the divine compassionate feminine), the external purpose of His advent on the Earth was to encourage everyone to be conscious of, and lovingly serve Krishna. His full sannyasi (renounced monk) name, "Krishna Chaitanya," means "Krishna consciousness." Although wanting to keep Himself in the background, He was a walking broadcaster of all topics about, and glorification of, Radha and Krishna. And today, we have the opportunity to love, serve, and understand Krishna, only on account of the supreme mercy of Shri Chaitanya and His followers in his guru-parmapara (disciplic succession of teachers). While He may seem in the background of the Krishna conscious movement, He is its foundation, and there can be no consciousness of Krishna, without the mercy of Shri Chaitanya and his associates.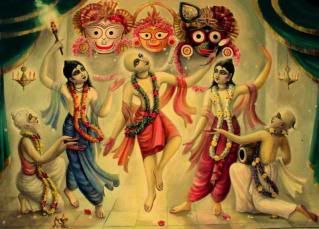 Although my allotted words are up, I will end with a small part of a pastime during Shri Chaitanya's life which shows his humility and role as a spiritual teacher. This was the first chapter of the Chaitanya Charitamrita that was published and has always been a favorite pastime for me, as it was also mentioned in brief in the introduction to Shrimad Bhagavatam.
Adi 7.49
"While Lord Chaitanya Mahaprabhu was instructing Sanatana Gosvami, both Chandrasekhara and Tapana Mishra became very unhappy. Therefore they submitted an appeal unto the lotus feet of the Lord. 'How long can we tolerate the blasphemy by Your critics against Your conduct? We should give up our lives rather than hear such blasphemy. The Mayavadi sannyasis are all criticizing Your Holiness. We cannot tolerate hearing such criticism, for this blasphemy breaks our hearts.'
"While Tapana Misra and Chandrasekhara were thus talking with Sri Chaitanya Mahaprabhu, He only smiled slightly and remained silent. At that time a brahmana came there to meet the Lord. The brahmana immediately fell at the lotus feet of Chaitanya Mahaprabhu and requested Him to accept his proposal in a joyful mood.
"'My dear Lord, I have invited all the sannyasis of Benares to my home. My desires will be fulfilled if You also accept my invitation. My dear Lord, I know that You never mix with other sannyasis, but please be merciful unto me and accept my invitation.'
"Lord Chaitanya smiled and accepted the invitation of the brahmana. He made this gesture to show His mercy to the Mayavadi sannyasis. The brahmana knew that Lord Chaitanya Mahaprabhu never went to anyone else's house, yet due to inspiration from the Lord he earnestly requested Him to accept this invitation. The next day, when Lord Shri Chaitanya Mahaprabhu went to the house of that brahmana, He saw all the sannyasis of Benares sitting there."


"As soon as Shri Chaitanya Mahaprabhu saw the sannyasis He immediately offered obeisances, and then He went to wash His feet. After washing His feet, He sat down by the place where He had done so. After sitting on the ground, Chaitanya Mahaprabhu exhibited His mystic power by manifesting an effulgence as brilliant as the illumination of millions of suns. When the sannyasis saw the brilliant illumination of the body of Shri Chaitanya Mahaprabhu, their minds were attracted, and they all immediately gave up their sitting places and stood in respect. The leader of all the Mayavadi sannyasis present was named Prakashananda Sarasvati, and after standing up he addressed Lord Chaitanya Mahaprabhu as follows with great respect."
"Please come here. Please come here, Your Holiness. Why do You sit in that unclean place? What has caused Your lamentation?"
"The Lord replied, 'I belong to a lower order of sannyasis. Therefore I do not deserve to sit with you."
"Prakashananda Sarasvati, however, caught Shri Chaitanya Mahaprabhu personally by the hand and seated Him with great respect in the midst of the assembly. Prakasananda Sarasvati then said, 'I understand that Your name is Shri Krsna Chaitanya. You are a disciple of Shri Keshava Bharati, and therefore You are glorious. You belong to our Shankara-sampradaya and live in our village, Varanasi. Why then do You not associate with us? Why is it that You avoid even seeing us? You are a sannyasi. Why then do You indulge in chanting and dancing, engaging in Your sankirtana movement in the company of fanatics? Meditation and the study of Vedanta are the sole duties of a sannyasi. Why do You abandon these to dance with fanatics? You look as brilliant as if You were Narayana [God] Himself. Will You kindly explain the reason that You have adopted the behavior of lower-class people?'"
"Sri Chaitanya Mahaprabhu replied to Prakasananda Sarasvati, 'My dear sir, kindly hear the reason. My spiritual master considered Me a fool, and therefore he chastised Me. "You are a fool," he said. "You are not qualified to study Vedanta philosophy, and therefore You must always chant the holy name of Krsna. This is the essence of all mantras, or Vedic hymns. Simply by chanting the holy name of Krsna one can obtain freedom from material existence. Indeed, simply by chanting the Hare Krsna mantra one will be able to see the lotus feet of the Lord. In this Age of Kali there is no religious principle other than the chanting of the holy name, which is the essence of all Vedic hymns. This is the purport of all scriptures.'
"'After describing the potency of the Hare Krsna maha-mantra, My spiritual master taught Me another verse, advising Me to always keep it within My throat.
harer nāma harer nāma
harer nāmaiva kevalam
kalau nāsty eva nāsty eva
nāsty eva gatir anyathā
"For spiritual progress in this Age of Kali, there is no alternative, there is no alternative, there is no alternative to the holy name, the holy name, the holy name of the Lord."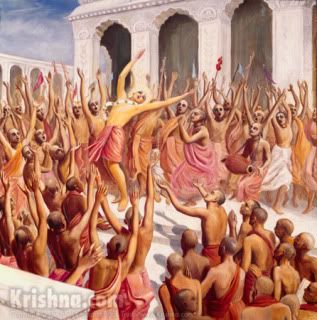 "'Since I received this order from My spiritual master, I always chant the holy name, but I thought that by chanting and chanting the holy name I had been bewildered. While chanting the holy name of the Lord in pure ecstasy, I lose Myself, and thus I laugh, cry, dance and sing just like a madman. Collecting My patience, therefore, I began to consider that chanting the holy name of Krsna had covered all My spiritual knowledge. I saw that I had become mad by chanting the holy name, and I immediately submitted this at the lotus feet of my spiritual master.
"'My dear lord, what kind of mantra have you given Me? I have become mad simply by chanting this maha-mantra! Chanting the holy name in ecstasy causes Me to dance, laugh and cry.' When My spiritual master heard all this, he smiled and then began to speak.
"'It is the nature of the Hare Krsna maha-mantra that anyone who chants it immediately develops his loving ecstasy for Krsna. Religiosity, economic development, sense gratification and liberation are known as the four goals of life, but before love of Godhead, the fifth and highest goal, these appear as insignificant as straw in the street. For a devotee who has actually developed bhava, the pleasure derived from dharma, artha, kama and moksa appears like a drop in the presence of the sea. The conclusion of all revealed scriptures is that one should awaken his dormant love of Godhead. You are greatly fortunate to have already done so.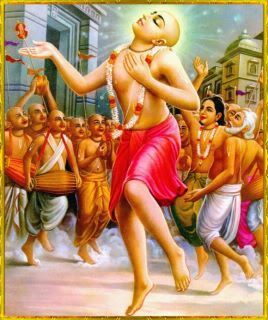 "'It is a characteristic of love of Godhead that by nature it induces transcendental symptoms in one's body and makes one more and more greedy to achieve the shelter of the lotus feet of the Lord. When one actually develops love of Godhead, he naturally sometimes cries, sometimes laughs, sometimes chants and sometimes runs here and there just like a madman.
"'Perspiration, trembling, standing on end of one's bodily hairs, tears, faltering voice, fading complexion, madness, melancholy, patience, pride, joy and humility -- these are various natural symptoms of ecstatic love of Godhead, which causes a devotee to dance and float in an ocean of transcendental bliss while chanting the Hare Krishna mantra. It is very good, my dear child, that You have attained the supreme goal of life by developing love of Godhead. Thus You have pleased me very much, and I am very much obliged to You. My dear child, continue dancing, chanting and performing sankirtana in association with devotees. Furthermore, go out and preach the value of chanting Krishna-nama, for by this process You will be able to deliver all fallen souls.'"
Prakasananda and his disciples were transformed into devotees of Krishna after talking to Shri Chaitanya and experiencing His spiritual potency. I urge you to read the above passage in the context of the whole chapter, which is full of deep meaning, and consider the explanations given by Shrila Prabhupada. Although we don't artificially try to imitate these ecstatic symptoms, and great devotees may suppress there appearance, they are a natural reaction of the body to internal ecstatic feelings of love for Krishna. May you feel the mercy of Shri Chaitanya on his appearance day, and always, by joyfully singing and dancing to the holy name of Krishna!
ɧɑɾɛ kɾɩʂɧɳɑ ɧɑɾɛ kɾɩʂɧɳɑ kɾɩʂɧɳɑ kɾɩʂɧɳɑ ɧɑɾɛ ɧɑɾɛ ɧɑɾɛ ɾɑɱa ɧɑɾɛ ɾɑɱa ɾɑɱa ɾɑɱa ɧɑɾɛ ɧɑɾɛ!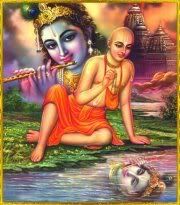 Login to post comments

16787 reads