Magical Mystery Tour, Part 3, Leaving the Clinic, and Speaking In San Diego, and New Dwarka (LA)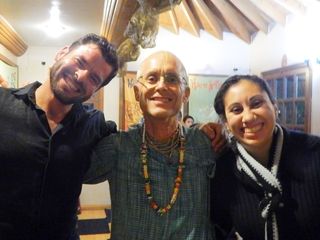 The most important aspect of my story is what is behind it. It isn't just a listing of what happened, like a shopping list, as much as bringing out the fuel, or spirit—however subtle—behind it. Cancer has changed me in a fundamental way—or I could say, has brought out the essence of who I am, and what I am supposed to contribute to life with those who are receptive, if I'm not clouded by so-called physical necessity, or even normal every day, sometimes mindless, spiritual practice, or excuses why I can't do what I do, or mental doubts or perceptions of limitations. I know I have a contribution to make that can be helpful to others, and with the urgency that cancer has forced upon me—well I could have failed to take its push and just become depressed, or not taken the cue to live my truth in a way that can be a lesson for us all, but in any case, my external journey is a reflection of who I am, and who I must be, if my life is to realize its full potential. That's the point!!! My hope is that by reading about my life, you'll reflect on your own, and what your contribution to life is; how fulfilling your purpose and mission will enliven you, filling a part of you that can't be touched in any other way, and this will also benefit others around you.
Visiting the temple in Tijuana, meeting and talking with the devotees, having the opportunity to speak, and participating in the kirtan, was a huge inspiration for me, and a super powerful way to begin my speaking tour on the West Coast. Facing death head on and joyfully embracing the possibility of having only a short time left in my body has been greatly beneficial to my life, like a lightning bolt of devotional and practical energy and guidance. Concerned friends ask me how I am doing, and my answer is "fine," which means normal. Other than my cancer protocols, it is difficult to know that my body must be quite out of balance to have attracted cancer.
As it is said in the alternative treatment universe, I am not sick because I have cancer, but I have cancer because I am sick—which means a compromised immune system. However long I may live, I am taking the worst case scenario seriously and doing everything I can to strengthen my immune system and send the cancer cells elsewhere. At the same time, I am putting aside self-doubt, and embarking on speaking tours to share my realizations on the benefit of facing death so we can fulfill our personal mission, and practice what I think of as "essential spirituality." I have also increased my writing schedule for producing a number of books. All in all it has been an incredible journey and is very exciting and enlivening—and this is only the beginning!


After 7 nights and 5 days of treatment at the clinic, I moved on to the next part of my journey. I scheduled speaking engagements at a devotee's home program in San Diego, and temples in Los Angeles, and Silicon Valley. I was driven over the border by a colorful character who has been taking folks back and forth from the US to the clinic for 40 years. While he receives some modest monetary gain from his customers this isn't what really motivates him. He is one of those persons who everyone loves and who helps others for the sheer joy of the serving them. His station wagon is over 35 years old and is a metaphor for that often forgotten service attitude of yesteryear that he exemplifies. I was inspired by his attitude and pray I can be such a selfless servant of the devotees.
He dropped me off near the airport where I rented my car for the next week, and I met up with my overnight host friend. I followed him to his house where I freshened up. Then he drove me to a health facility where is wife is staying. People visit here from all over the world for treatment from life threatening diseases through diet, exercise, and uplifting motivational programs. I found it very impressive and would love to see devotees run a similar place. We drove back to his home, and I prepared for that evenings talk about 45 minutes away at the home of Yudhisthira and his wife Radha, who were such kind and gracious hosts to facilitate my talk, and preparing Prasad I could honor on my special diet. The traffic in San Diego, though not as bad as in LA, was intense, and only by Krishna's mercy through the GPS, and no accidents or backups, did I arrive safely and on time at my destination.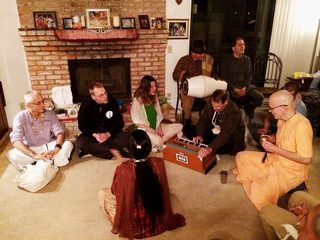 I reached their home in the middle of a lively kirtan lead by Dravida Prabhu. About 35 devotees of various ages were present, from teenagers to my older Godbrothers and Sisters, some of whom were old friends, and some I had never met before. To urgently speak to the devotees about those practices I consider the most helpful for a lifelong commitment to bhakti, as well as the struggles I have been able to navigate and learn from, is a great honor and privilege. I emphasize in all my talks that I have to be one with the message—being as fully present as possible—and can't just be sharing official philosophy or dogma that I don't practice myself.
I must give life, my life, and what I have understood as essential spirituality. This is one of the benefits of my cancer: the realization from facing death of what is truly important for me, and for many. My fears and self-doubt, or negativity and criticism, have no importance, but only what I have become through the fire of ordeal illuminated by the holy name, devotional service, and blessings from my gurus and Gaura and Nitai. As a speaker it is easy to see when the listeners are engaged, or when you lose them. Fortunately, the audience was receptive and attentive and expressed positive feelings after the talk. I also sold 10 of my books, Give to Live. Sharing my books is such a joy and I felt grateful to connect and be helpful to the devotees. We all live by grace, though sometimes it is more obvious than others. At these talks, I had no doubt.
The next morning I was on the road to New Dvarka in Los Angeles with an eye to beat rush hour traffic. I made good time and reached the temple in about 2 and ½ hours, with one stop. By Krishna's grace, through my friend in San Diego's call, I was able to stay in a room in the brahmacari ashram. I moved in and then took my lunch at Govinda's restaurant next door to the temple. I connected with a number of devotees and found them very receptive to the topics on my mind. After buying a few items in the gift store and visiting the temple Deities, I stayed in my room, and prepared for the next morning's Shrimad Bhagavatam class.


I was initiated in New Dvarka 46 years ago with Shrila Prabhupada personally present, so in the mood of the whole trip, this was yet another home coming, from my material birth in LA, to my spiritual second birth at the temple. Rising early I attended the morning program and saw many old friends. I was honored to be warmly welcomed by the temple present, Svavas Prabhu, who I saw join in Denver with his two brothers. As it turned out, being in the temple in front of Prabhupada was very emotional for me. My heart was wide open and I was looking at many aspects of my life growing up and my taking up the process of bhakti. I was talking to Prabhupada in his Deity form, as is my practice, apologizing for my many shortcomings, and wondering what might be my destination should I leave my body soon. I kept breaking out in tears and had to hide my face a few times in the corner, until I was able to let it flow through me, and just accept I had done the best I could, and that possibly I would be granted time to make up for my mediocre spiritual practices over the years. Thus my continued urgency in speaking.
After I chanted most of my rounds I went to my room to finish preparing for the class from the 9th Canto, 20th Chapter, 22nd verse, of Shrimad Bhagavatam. I did my best to speak about the verse and purport in philosophical terms, but also very practically and personally, by connecting it with my life-threatening situation facing cancer. I felt good about my talk and the devotees were attentive and present. Later I received good feedback which was encouraging. To be able to really connect with the audience by sharing what I truly resonate with and personally practice is very meaningful and gratifying. I was in such awe of the blessings Krishna had given me in the 3 talks I had given so far. I also got to talk to a number of younger devotees and did my best to encourage them. Unfortunately, I couldn't stay for long, so I packed up by belongings, purchased some lunch prasadam, and embarked on the next leg of my adventure by driving seven hours north to Silicon Valley.
Here is a video of the class i gave in New Dwarka:
https://www.youtube.com/watch?v=5r-fvz9BcX0
Login to post comments

5315 reads