Magical Mystery Tour, Part 2, Tijuana Cancer Clinic, and Giving Class at the Temple, plus video link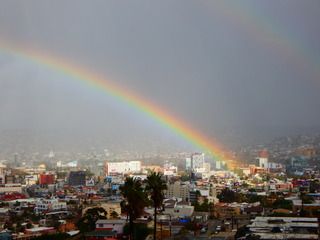 One theme for my journey West, which includes my whole cancer journey to date, and entire life when looked at with a spiritual eye, is a statement used by HH Bhakti-tirtha Maharaja that he learned from his very spiritual mother: "I am blessed by the best and I am praying to pass all my tests!" May we all adopt this vision to view our lives in the most positive light!
After arriving in San Diego a friend picked me up at the airport. He took me to the US-Mexico border, since it is quicker to walk into Tijuana, than to drive. I will stay with him overnight upon my return to San Diego. Having not seen one another for many years we enjoyed catching up on our respective lives. He prepared some Prasad according to my diet and I was so grateful. Krishna's prasadam (sanctified food)is life giving in all circumstances, but under certain conditions we may appreciate this fact more. For me, after a long flight and only eating nuts, it was like breathing in new life. What can I say? I relished it and felt blessed!
After a long drought the heavy rains I saw were welcome, though even in a normal year, they're rare for Southern California. As a result there was a good deal of flooding—too much of a good thing! Fortunately the rain let up for a while as I walked over the border into Customs. As I walked I did my best to take in the scene. There were lots of people wandering around and it was very commercial. I was struggling a bit since my bags were quite heavy. In addition to my checked suitcase, my carry-on bag was overloaded, as was my computer bag. Space in the two large bags was full of organic vegetables, grains, instant organic meals, and cooking utensils for the 6 day stay at the clinic, and for my trips north. Believe me, I will travel much lighter next time I visit here!
After checking into Customs, I made my way to the cab stand for the short trip to the clinic. Tijuana reminds me of a combination of America and India with mainly newer USA cars which all seemed to need washing, surrounded by poorer homes in some areas. Driving is different here—not anywhere near as crazy as in India, but with special rules of the road which would only work in Mexico—American's would be too passionate and impatient. For instance, in intersections, there is a sort of dance to get through the street, and it is done in a slowed down speed and without horns. I found it fascinating to watch.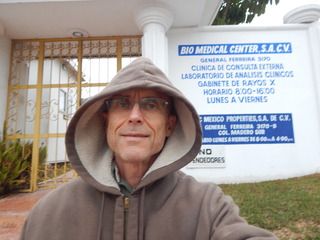 I am arriving a day early in the afternoon and will begin treatment tomorrow. I just talked to some other patients and received the key to my room. There are four apartments with their own bathroom, and we share a kitchen. The rooms are spacious, bathrooms adequate, and the kitchen well equipped, though as I mentioned, I brought my pots and food to prepare.
I am staying at the Biomedical clinic which uses the protocol of Dr. Hoxsey. In the 1950's he had 18 clinics which were very successful in treating cancer, but they were forced to leave the country and come to Tijuana because their treatment didn't fit the money making model being pushed by the pharmaceutical industry and its doctors. That is a side issue in my story, but not an unimportant topic to discuss.
Many people come here for one day to get their tests, and from their results they leave with a large bag of herbs and vitamins along with his cancer formula—a 3 month supply. Patients are encouraged to return in 3 months to evaluate the progress. I am staying an extra 6 days to receive daily intravenous (IV) of Vitamin C and Laetrile, or B-17 from apricot seeds. Many people show marked improvement, so I'm hopeul. The cancer I have is slow growing and so it's difficult to treat, but in addition to following Hoxsey's protocol, I am doing many other recommended protocols simultaneously.
During the first day of treatment all patients checked in and then put on hospital gowns, the men in gray and ladies in blue. They were very large and monk-like, so when we were all together waiting for our individual tests, it set a comical and equalizing mood. The atmosphere in the clinic was very un-hospital-like and relaxed which I think was therapeutic in itself, and added to the natural camaraderie of the patients. We were one as human being seeking treatment with a life threatening disease. This, along with the clinics atmosphere, and friendly staff, seemed to open everyone's heart, or at least greatly diminished their false-or conventional, material ego.
Patients had no profile to put on and wanted to share their stories honestly. This fact made it easy to talk and connect with everyone. Opening lines were easy, "What is your diagnosis," or asking , "How are you, knowing full well that this would be a conversation, not a pat few words. For me, this diminishing of the ego defenses was the most significant feature of the day— I wished it was this easy to talk and relate to people in "real" life. I met so many pleasant and interesting people, both on the staff and fellow patients, and felt touched by the deep, instant connections.
Of course some patients were in really bad shape from all the chemo and drugs that have been doing, and that was quite sad, and yet, here there is a real positive and hopeful feeling and great support. This was a fitting beginning for the trip and my attempt to truly connect with others and speak about essential spirituality. Being real and being a straight taker, but speaking with affection, kindness, urgency, and interest, is powerful--at least that is my intention and I am receiving positive reciprocation.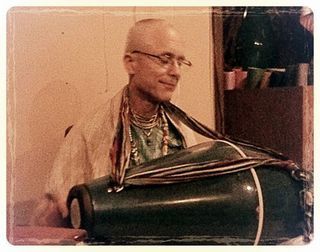 A special privilege came to me to be able to speak at the ISKCON Sunday feast here in Tijuana. I am excited at my good fortune, unsought. I videoed it (see below), and some of my other talks were videoed by the temples I spoke in. I pray to share my experiences and to expand my service. It turned out to be an enlivening evening of kirtan, fellowship, KC talks, more kirtan, prasad and deep connection. I can't wait to return to see my friends there! What more could one ask for? Giving gifts I guess, as devotees exchanged of gifts and dovetailed or "Krishnized" the Christmas spirit, a few weeks later. My whole trip was a tremendous gift for me!
However, I still find it a bit strange to see my talks and promote them and what I am now doing, but I do so in the mood of giving, sharing and serving the devotees. My speaking will only be empowered and helpful when I am inspired and blessed—especially in regard to representing Prabhupada, my shiksha gurus, our guru parampara, and Shri Shir Gauranga Nitai!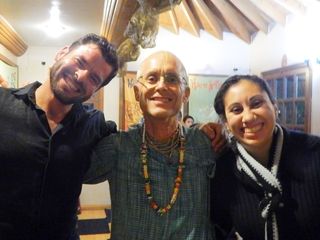 Here is the link to the YouTube video of my talk at the Tijuana ISKCON temple:
https://youtu.be/9lYyrFiH0YM
Login to post comments

3805 reads