Magical Mystery Tour, Part 4a, Driving to, and speaking at, ISKCON of Silicon Valley (ISV)

I found the drive from LA to ISV, in Mountain View, CA, a scenic one once I was out of the city. About half the way there as I approached the top of a mountainous ridge at 4,000 feet, I was greeted by what I took as an auspicious sign for my current travel and talk the following day. Ahead of me was a rain storm with the beginning of a rainbow to my right. As I progressed, it became larger and larger, finally creating an arch from one side of the highway to the other, like some banner heralding a festival on a city street. My camera was handy and when I posted the picture on Facebook, some of my friends thought that if they didn't know me, they would have assumed someone Photoshopped it. But no, it was the real thing, and from what I have heard, not a frequent sight. It was the first one I've ever seen, and it stayed with me for about 10 minutes or so.
I gradually descended into the San Joaquin, or central valley of California, which grows much of our Nation's food. Crops and various fruit trees were on both sides of the road often stretching as far as I could see. As I was taking in the scene I remembered that the last time I was in the San Joaquin valley was 46 years earlier. A few devotees and I were on our way to be initiated by Shrila Prabhupada in Los Angeles. At the time I was staying at the San Jose temple, which was near San Jose State University. I rode with Chitsukhananda Prabhu along with some other devotees. His car was an old, brightly colored and exotically decorated station wagon that Prabhupada had called a "hippie car." About half way there, the car broke down in the middle of the same valley I was now in, and we had to take a bus to LA.
At the time I didn't really think much about it, whereas now, I would be wondering what the symbolism was, breaking down on my way to be initiated by my future guru, Shrila Prabhupada. Now I might consider that overcoming obstacles and staying the course no matter what was part of the message I could garner from the experience, but at that time, I wasn't that observant or curious. My simple, accepting nature served me during my early years, and helped me focus on my service without being distracted, or criticizing others.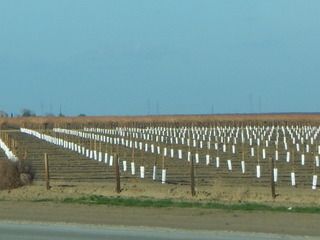 As we walked to the bus station in this dusty, country town, an old man quickly approached us. With a strange shinny glow in his eyes, he excitedly asked us if we were going to get initiated. Smiling, we all looked at one another in total surprise and amazement. We replied that indeed we were and he came up to me and patted me on the back, offering me congratulations. Before I could say a word he was gone, like an angel, a wise old mystic, or some divine apparition. I was dumbfounded, thinking, "How did he even know about such things here in the middle of nowhere? Unbelievable!"
This unexpected event even got my attention and added to the special feeling of our trip which was now seemed like an adventure where we might expect anything. I kept up the feeling of wonder for a long time—through truth be told, life is always a mysterious adventure when we have the eyes and heart to accept this and thus look for confirmation. Later we figured out that this old guy had likely never seen shaven headed devotees in saffron dhotis and kurtas (traditional Indian dress), and he concluded that the only explanation for our strange appearance was that we must have been completing some bizarre initiation as pledges into a college fraternity. Even realizing the actual fact, I felt this was a special arrangement of Krishna to encourage us. I know I was!
I thought that my trip to Mexico and speaking to various groups of devotees, was certainly a special, even mystical adventure, and I came up with the name of my trip as a "magical mystery tour," like the name of a Beatles album. If I were to write a memoir of my life, this title would be a good name for it. Feeling blessed and lost in thought, I soon found myself less than an hour from my destination, and called my hosts to let them know I was very near.
Meeting and spending time with this young devotee couple was a joy, and I felt close to them easily and naturally. Some people immediately seem life family and without any effort we feel connected. We shared delicious meals and pleasant talks about practical and spiritual matters. I appreciated their open-heartedness and earnestness, and was happy I was able to share what seemed to be useful information and assistance.


My talk the following day on Saturday was attended by about 25 devotees and was well received. Two old friends attended who I served with over 35 years earlier. I felt this talk was a fitting end to my lectures in California, as the atmosphere was so conducive for inner reflection and the mood I had of sharing my life and the lessons learned. I was so nicely facilitated and I felt grateful for this opportunity. After the talk I received questions that indicated that the devotees were relating to the topics I raised in a thoughtful way. This is always enlivening for a speaker. After this talk and at the Sunday festival, I was able to share 24 copies of my book, Give to Live, which is meaningful and gratifying for me, since I put so much into this writing it.
The ISV temple is cozy but feels spacious. I was affected by its esthetically pleasing ambiance with wood floors, high ceiling with exposed wood beams, and skylights—all infused with spiritual power by the Prabhupada murti, and the temple deities of Shri Shri Radha Madan-Mohan, Lord Chaitanya, and Shri Prahlad Nrisimhadeva, who were all are beautiful and charming. Actually, the devotees make any temple what it is by their energy of devotion which causes the Deities to be present. Thus, I wasn't surprised with the congregation's enthusiastic devotion and sincerity. (continued in part 4b)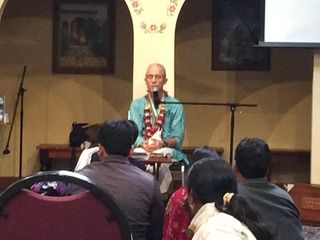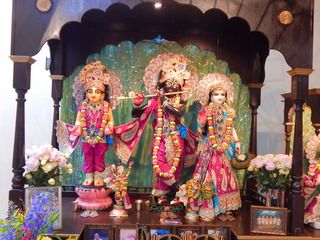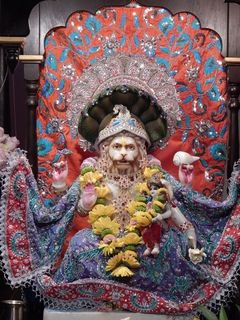 Login to post comments

2844 reads