WHY I WRITE AND HOW CANCER GAVE ME NEW IMPETUS TO CONTINUE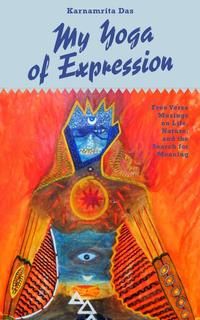 The topic of why I write and how my cancer diagnosis was the fuel to my publishing my new free verse poem book, My Yoga of Expression, serves as in introduction to the book, and my hope to give you sufficient reason to obtain your own copy. My purpose in writing, in addition to being my expression of service and giving, is fueled by my aim to give support and encouragement to those involved in bhakti, as well as to introduce seekers to new possibilities for their spiritual search. Additionally, it is a testimony that with every difficulty, reverse, or life challenge, there is always a gift to discover.
So I also write and speak with new urgency to demonstrate this--how cancer has become a great impetus for my fulfilling what I consider my life work. With a deeper, faithful, spiritual outlook, everything can be seen as mercy from the Lord. This I pray to convey so you so may think about dealing with a life threatening illness should you have to personally deal with one, or the illness of a loved one. Regardless, we all have to face biological or physical death.
In what follows, I show how I have grown from my upbringing and immature practice of bhakti. Now I see that everything in my life is by divine order to help me on the human and spiritual level. In that sense, it is all good! I am also stressing that everyone's life story is important to learn from. My hope is that learning about the diverse backgrounds of devotees will glorify the power of bhakti to transform one, and show how Krishna uses our often difficult past to help us come to him.
Ten years after taking up the path of bhakti, at 30 years old, I was given a journal. Over the next 20 years I regularly wrote about myself and events I was confronting. I discovered that by writing I was able to be in touch with deeper parts of myself. I began to understand my nature like never before, since as a child, I learned to be a very shut down or emotionally unavailable person as a defense against my raging alcoholic father. While the misery I experienced growing up was part of the catalyst for my spiritual search, I still would have to deal with it and become at peace with my past. I couldn't flush my history as I wanted to or just ignore it, thinking I would be able to transcend the world and its demands in a short time of hearing and chanting.
I didn't initially understand that spiritual advancement is a slow process for most of us. When I lived as a brahmacari monk for nine years, Krishna used my disinterest in the world for my benefit. Even though my immature detachment from the world was unsustainable, it was valuable. This was the perfect way to use this time of my life and it saved me being lost in the material world of birth and death. Those formative years of service and the spiritual reciprocation I experienced doing "emergency devotional service" as a pujari and cook, became the spiritual bedrock for my later life, enabling me to not be completely lost during the turbulent days after the departure of my guru, Shrila Prabhupada. We have to share the difficult past to help others not have to repeat it. I know now that whatever we experience in life is meant to help us grow on the human and spiritual level.
As I matured as a person, for the first time in my life, I was impelled to understand who I was in my body and mind—before that I was consumed with my devotional service which changed my life. At the same time, I gradually realized that to fully embrace the spiritual I had to use my conditioned nature to its fullest and most empowered expression, rather than deny or repress it.
I discovered that by writing I uncovered a new honesty and a self-reflection process that introduced me to who I was as a person behind my indifferent façade. I found myself to have a great intensity full of feelings that needed to be expressed beyond my easygoing personality. While this is still my nature, as I tend to be a quiet person comfortable keeping in the background, I am now a much deeper and more balanced person, and I have discovered that I need to share my journey with others to fulfill my calling in life. I don't claim any special talents or spiritual enlightenment, but I do need to teach what I know and have learned in life. Each one of our life stories is important to share—this has become one of messages to my readers.
In 2007 I was invited to blog on Krishna.com, and this began my journey of writing not only for myself, but to benefit others as well. The discipline of writing for publication built on my years of regular journaling, and I found myself much more insightful about myself, life, and spiritual practice—this and what was fostered by years of studying self-help or personal growth books and time spent in therapy, combined with finding a shiksha guru who gave me new inspiration and guidance.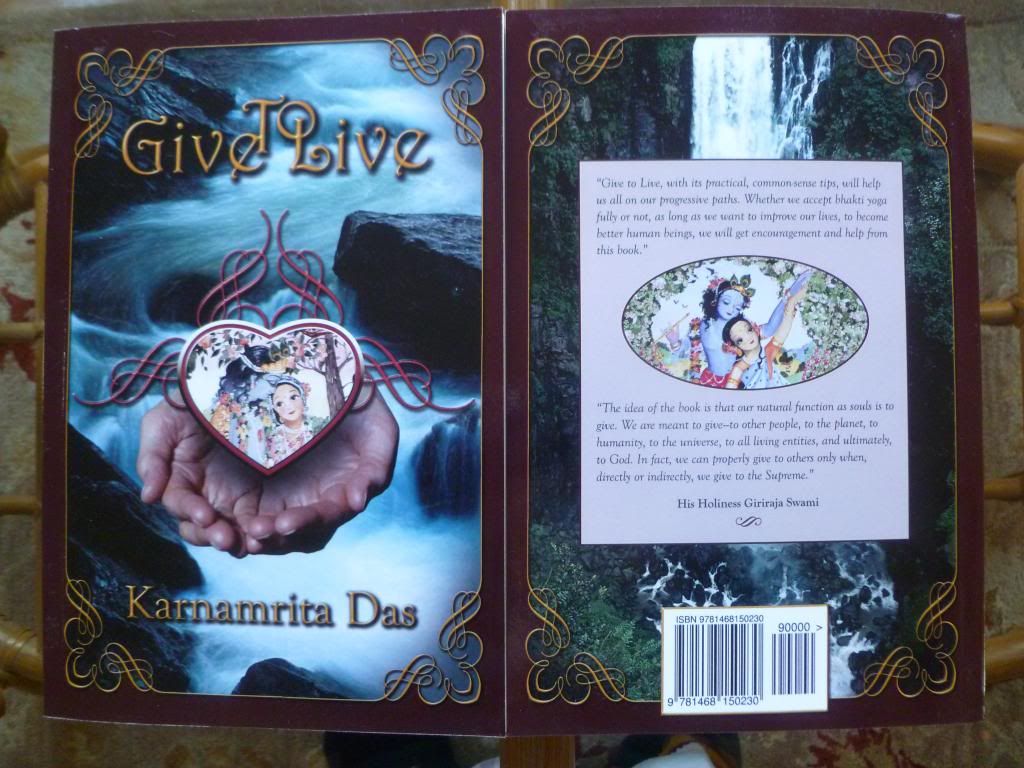 In 2012, after four years of endeavor, I published my first book, Give to Live, composed of 100 of my blogs from Krishna.com. While nowhere near a best seller, as it is directed mainly to devotees and is self-published, still I have a certain satisfaction that I have sold over 800 copies around the world.
I was happy in my life and service, but I obviously needed a good wake up call to deepen the intensity of my spiritual practice. In November of 2015, I was diagnosed with stage 3 squamous cell cancer. This diagnosis has helped bring me to another level of living and serving, ironically because I have had to face impending death which was no longer an abstract concept, but in my face, or like a guillotine being raised over my head, as a very real outcome of a life threatening disease.
I have come to see this disease as one of the best events of my life, so much so, that some devotees thought I was in denial about the having cancer. Far from it, I have seen how accepting my death has helped me be more fully present in chanting and serving. I also realized that I needed to write and speak more. In that spirit I developed a lecture, titled, "Facing Death, to Live More Fully Today," (which I am working on making into a book) and began traveling to share it with devotees and the yoga community.
Each day is a precious gift and I am praying more than ever to use each one as an offering to my gurus, Gaura and Nitai, and to benefit others. In this mood I have just published a new book, which I am offering to devotees as a celebration of my life and devotion, meant to demonstrate the blessings of disease and facing our death in giving us a new urgency for living, and for helping others in the process. If a life is worth living, it is worth sharing!
Here is one of the short poems from the Appendices:
There is no tomorrow.
Surrender must be now.
Acknowledging my disqualifications—
laziness and material distractions—
I refuse to let them define me.
My excuses are all lame,
without any currency or meaning.
I can only pray for mercy and sincerity,
which supersedes everything.
I must empty myself today
of the unessential and superficial.
The world is a perilous mess.
All I can do is offer my soul,
fulfill my need for power
by connecting to our Source,
which gives its illumination and love,
full of spiritual nourishment.
I offer myself so I can give what is required
to share God's love and kindness.
I can show a way to wholeness,
the divine potential of everyone,
a way to fulfill our hankering heart
by using our nature and karma
as an instrument of divine love—
for me, the greatest blessing!
It's available in both eBook and softbound from Amazon.com worldwide. You can also view a sample of the contents there. Proceeds go to my ongoing cancer treatment and travel to the Mexico clinic. Here is the link from the USA site: http://www.amazon.com/My-Yoga-Expression-Musings-Meaning/dp/0996915621?i...
Login to post comments

3163 reads