Happily Be, Give, Love, and Serve

Today, how shall we give
and whom shall we love?
Count the ways to be thankful.
First, decide to be happy.
Think of the reasons why not,
remembering that happiness
is a moment by moment choice
just as sadness is a question of focus.
Why give more reasons
to be unhappy than happy?
Why wait to be happy
till achieving some goal,
or lament what you don't have
when you can happily achieve
or even fail temporarily
learning valuable lessons?
Tomorrow we get to try again!
The above reflection is for anyone,
but if you are a bhakti practitioner
we can add to the mix, the goal of Krishna.
Remember, who we become,
and the consciousness and devotion
we give to life is most important and lasting.
Though the body and mind
can be confounding and painful,
we have no death and are part of God.
We can rejoice in this, right?—what would life be
with no spiritual knowledge or higher purpose?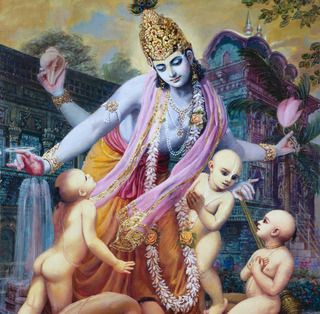 We're an immortal soul gradually awakening.
OK, you may not be doing well in chanting,
so that is our prayer life, a blessing to aspire for.
You are not so fallen to be beyond mercy!
I smile just looking at a picture of Krishna
or remembering his showing of grace
to his devotees. Think of Prahlada, or Indra,
Brahma, Dhruva, Akrura, Arjuna, Bhisma,
Draupadi, Kunti, Uttara, the Kumaras—the gopis,
and all residents of Vrindavan,
even the trees and creepers,
or in Chaitanya lila, the Goswamis,
King Pratraparudra, Sarvabhauma,
Gopinatha Pattanayaka or even Amogha
—they are meant to inspire us
of who we can and will become.


We are so much more that our body,
our mental limitations or bad attitude,
or our sad story which may seem
to cast a dark shadow on our lives.
We can learn to smile at it all,
even a life-threatening disease.
If you dig deep, beyond external appearances
you will find the Lord's kind embrace—really!
Remembering Krishna's many Deity forms
or thinking of his divine lila,
like Shri Chaitanya chanting with his devotees,
take shelter of the process of bhakti.
Be reminded of your divine potential.
So let us focus on that,
not waiting to be happy till we achieve
or when we die—let us be happy
as we pine for spiritual perfection
we depend on the most happy person,
seeing this as a great blessing.


Yes! We will become our highest ideal!
We live by grace, and we can celebrate,
each breath, heartbeat, uplifting thought,
even as we may cry at times
know this will pass and we can return
again and again to divine shelter.
Join together to chant the holy names
to love and serve the Lord of our heart.
Prayer is joy as we aspire for perfection.
Today, how shall we give
and whom shall we love?
Count the ways to be thankful.
Happiness is a choice
which is the best way to help
ourselves and whoever we meet,
to everyone we can share our joy
in living by the grace of divine service.

Login to post comments

3425 reads