Krishna.com Update: Our New Building
We've finished renovating the smaller of our two buildings – it was the easiest one, and also the most urgent to move into because the Krishna.com web department needed the much-better internet connection offered at the site. The space also is home to several of our local Bhaktivedanta Book Trust staff.
We had to completely redo some very unsafe wiring and upgrade the plumbing (energy conserving water heater, new fixtures, etc.). We refinished the old wood floors rather than replace them, and they look so beautiful! Several of the smaller offices were repainted. And we replaced all windows and the air conditioners to be much more energy efficient. We installed drains around the building to funnel rainwater away from the foundation.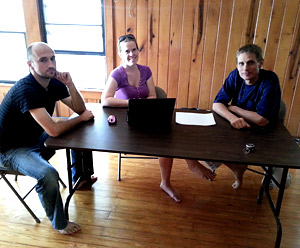 And we've begun renovating the main building. We've pulled the old carpet, painted and sealed the the walls, cleaned the air conditioning duct work and installed a new central air conditioning system. The warehouse and walk-in store have been completely remodeled.
The back half of the big building still needs some more work. Floors need to be leveled. The "Florida Room" annex needs to be reinforced and renovated. Flooring needs to be installed. We made it this far on generous donations from supporters, and we'll be able to finish off this big project with your continued support.
If you would like to send funds specifically for the new office, please note that it is for the 'New Building Fund' so it goes to the right destination. For more info on the new building:
http://www.krishna.com/new-building
Login to post comments

26966 reads