Blogs
Login to post comments

3329 reads
Login to post comments

3250 reads
In an effort to compete with Sabjimata Mata's and Kurma Prabhu's delicious prasadam blogs, I hereby submit our twelve month sandwich.
Login to post comments

2987 reads
Login to post comments

2807 reads
(this blog is recorded on the full page: quick time player needed)


[Republished from December 14th, 2012]
I began this blog with the first part of the title before I contacted an "industrial strength" flu, which then gave me illness eyes to emote through. Practically our entire community received this illness gift from a visiting sadhu, and many of us have been under the weather for 12 days or more. In any case, I have combined the two blog ideas since they are related. In other blogs (included in my book Give to Live) I have spoken about the positive and negative impetus for practicing bhakti. While today's title emphasizes the negative, it is within the context of a positive, spiritual, worldview and an understanding of the blissful nature of the soul engaged in loving service to Krishna. Until we are self-realized devotees of Krishna, we have to continually be reminded about the shortcomings of the material world and the fallacy of trying to enjoy our senses. Why? Since we are all addicted to pleasuring our senses and material conceptions, we often have a difficult time breaking these bad habits. However, we can apply the adage, "Repetition is the mother of skill," and gradually find our spiritual footing.
In this spirit, the statement, "and then you die," can be added to any ordinary material activity or accomplishment in order to put life into a spiritual context. In other words, from the perspective of the eternality of the soul, how much value does a particular action or achievement have? Reading the obituary column is interesting from this perspective, since often the authors of the "accomplishments" of the so-called deceased, make quite a stretch in their praise, like looking for straws--at least it seems this way to me. If we were merely a temporary conglomeration of chemicals, then yeah, such narratives would be important, since that would be all there was to a person's existence. One life and then you die—end of story! And even if, from a worldly or religious perspective, they are significant milestones, or extraordinary achievements, how much difference do they make spiritually? To me, that is the fundamental question to be asked in thinking of a person's, or our own, life. We all have things we feel compelled to do, and yet, as aspiring devotees, the art is to connect them to Krishna. As souls with a spiritual purpose to wake up from our conditioned dream, the only thing that truly matters is our real lasting enlightened self in a relationship of loving service to our Source, God, or Krishna.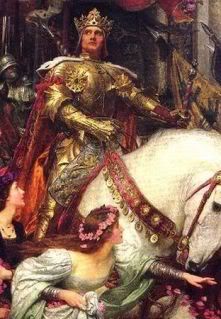 [Originally published on September 1st ,2009] We are all unique yet also very similar to others of a certain background. I see the world as a Gaudiya Vaishnava which distinguishes me from many people by my habits, desires, spiritual and religious practices, and in general my lifestyle. However, by introspection I must admit to sharing much in common with human beings termed in America as "Boomers" or those born around 1950 or so. Sometimes people pride themselves for their particular group, ignoring how each human being shares the same basic needs to maintain their body, mind, and emotions in often only slightly different ways and varying personalities and tastes. The nature of our material ego is to try to convince us that we are very special in a positive or negative sense (specially gifted or flawed), and that the big world (or our small circle) should revolve around our needs, desires and mental constructs.
The more knowledgeable and humble we are the more we realize how similar we are to others, and how small and insignificant we are in relationship to our community, city, state, country, planet and the infinite Universe. We are a tiny soul, thinking we are very big and important. And we want to hear stories, read books, or watch movies that inflate our sense of self importance and greatness. This is why so many books are written and movies made.
[I hope to be able to write new material in a few weeks, but for now, I am continuing to mainly post already published blogs. This one was first published on this day last year.] May 20th was my mom's death anniversary. Every year I do my best to post something meaningful to honor her, with the intent to prompt you to think about your relationship with your mother and parents so you can ponder its meaning. How has it affected you, your relationship to others, and your spiritual life? I was a bitter young man for many years until I came to realize that my mom did the best she could, and was struggling in a very abusive relationship. Thus with maturity and knowledge I gradually forgave her for leaving me with my dad--I came to find out that he had threatened to kill both of us if she had tried to get custody. He had a gun and a very bad temper, so it didn't seem an idle threat. As I have shared often, when I became a devotee in 1970 and moved into the temple ashram as a monk, I was not very sensitive and thoughtful in my dealings with my mother. While in the ultimate sense we are souls with nothing to do with the body, we still have to deal with our material life responsibly according to our realization--and this certainly includes being kind and understanding to others who aren't on our path, and/or who raised us.
As a lad of 19 years coming from a shallow understanding of the counterculture of everything young and anti-establishment, I had no common sense, or practical experience. Plus I had no wise devotee elders to soften my fanaticism, but only other very young persons to teach me, who although sincere, didn't have a balanced perspective. In general, the culture at that time in the Krishna movement was very black and white--you either lived in the temple, or you were in illusion (maya), and if you were a devotee you were good, and if not, you were bad and to be avoided. In the beginning while we were trying to gain faith and experience in bhakti, this "all or nothing" attitude had some utility, but for most of us, in the long run it wasn't helpful in our relationships and in dealing with the material world. I would, of course, do things much differently now if I could live my life over, but what was done can't be changed. Still, for future generations I write much about my mistakes and immaturity with the hope of educating others.
As an interesting aside, this last weekend my wife and I performed a wedding, and met the parents of the bride and groom. Plus many children and their parents attended,
Login to post comments

5405 reads
(this blog is recorded on the full page: quick time player is needed; works best with Firefox or Explorer; if you are using Google Chrome it will automatically play, so to not listen, mute your speakers.)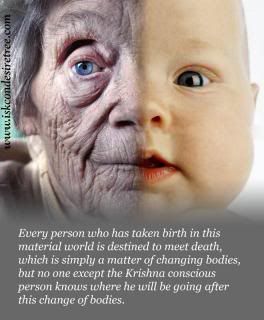 [Originally published on March 3, 2014--since we are now in the process of selling our house and letting go of more things this blog's theme is very appropriate]This morning, after rising, folding up my sleeping bag, and taking care of some natural necessities, I read some of Shri Chaitanya's lila in Chaitanya Bhagavat. Such a nectar book of spiritual delight! Regular reading of scripture is one of my benchmarks for a successful day. I read about Lord Chaitanya's (so-called) "birth," heralded by the resounding chanting of the holy names, which was the custom during a lunar eclipse; how child Chaitanya, or Nimai, would cry and only stop when the ladies chanted the holy name; how mischievous he was as he grew older; how two thieves tried to take him away to steal his ornaments only to find themselves back in front of Nimai's house; and how Nimai revealed his divinity to a visiting Vaishnava holy man staying with his family. These are very sweet lilas (pastimes), full of deep meaning, and providing me a great way to begin my day!
I have had continual interruptions, or necessary duties, in my regular attempt to write. Writing is a joy for me, but also a discipline; even though I find the effort relishable, setting priorities is required to make it happen—as we must, in the accomplishment of any valuable goal. Those who are devotees of a particular manifestation of God, or who have a spiritual orientation, will see the value of hearing about the activities of the Lord or great saints, and yet they are often understandably less interested in sharing about their own lives. However, everyone's life is full of important lessons and inspiring events. We only need the right attitude to see this played out as we generally see what we are looking for. This is one of the reasons I write about my life—to show that even a regular person who is trying to live a devotional life has much of value to share. "Ordinary" or "extraordinary" are labels from a state of mind. We notice what we value, so what is going on in your life, right in front of you, that may be trying to get your attention?
Login to post comments

5984 reads

[One of my earliest blogs and contained in my book Give to Live originally published on Fri September 14, 2007] No it is not a new dance step, but a process. I first heard the term from a devotee scholar who used the term to indicate the process of taking the best from any situation--in his case his educational pursuits. Prabhupada gives the example of the swan that can draw out the milk from a mixture of milk and water. We have to look for the nectar or the essence which can be used for Krishna's service.
A famous quote in Prabhupada's purport from the first Canto of the Bhagavatam [1.5.11] gives the same idea:
(this blog is recorded on the full page: quick time player needed)


[One of my favorite free verse poem attempts--another meditation on what's really important in our lives. Originally published on 09-23-2011]
Today, the sun didn't rise
I kept waiting, perplexed
the wind howled
rain came in sheets
electric power failed
no machines worked
not even computers
I lit candles
the ancient technology
altar Deities again illuminated
"O Lord, what is going on?"
Going upstairs, my wife vanished
"Such things can't be happening!"