Bhagavad Gita Today August 24, 2021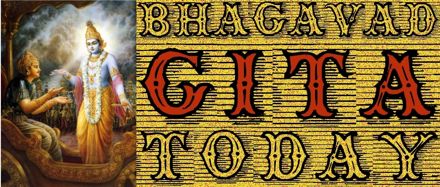 TRANSLATION:
He is the source of light in all luminous objects. He is beyond the darkness of matter and is unmanifested. He is knowledge, He is the object of knowledge, and He is the goal of knowledge. He is situated in everyone's heart.
PURPORT (excerpt) :
The Supersoul, the Supreme Personality of Godhead, is the source of light in all luminous objects like the sun, moon and stars. In the Vedic literature we find that in the spiritual kingdom there is no need of sun or moon, because the effulgence of the Supreme Lord is there. In the material world that brahmajyoti, the Lord's spiritual effulgence, is covered by the mahat-tattva, the material elements; therefore in this material world we require the assistance of sun, moon, electricity, etc., for light. But in the spiritual world there is no need of such things.
It is clearly stated in the Vedic literature that because of His luminous effulgence, everything is illuminated. It is clear, therefore, that His situation is not in the material world. He is situated in the spiritual world, which is far, far away in the spiritual sky. That is also confirmed in the Vedic literature. Aditya--varnam tamasah parastat (Svetasvatara Upanishad 3.8). He is just like the sun, eternally luminous, but He is far, far beyond the darkness of this material world.
His knowledge is transcendental. The Vedic literature confirms that Brahman is concentrated transcendental knowledge. To one who is anxious to be transferred to that spiritual world, knowledge is given by the Supreme Lord, who is situated in everyone's heart.