Bhagavad Gita Today July 30, 2021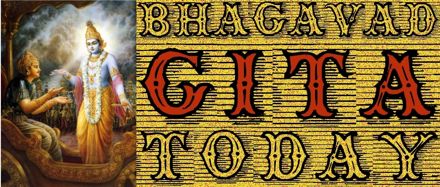 TRANSLATION:
If, however, you do not perform your religious duty of fighting, then you will certainly incur sins for neglecting your duties and thus lose your reputation as a fighter.
PURPORT:
Arjuna was a famous fighter, and he attained fame by fighting many great demigods, including even Lord Siva. After fighting and defeating Lord Siva in the dress of a hunter, Arjuna pleased the lord and received as a reward a weapon called pasupata-astra. Everyone knew that he was a great warrior. Even Dronacarya gave him benedictions and awarded him the special weapon by which he could kill even his teacher. So he was credited with so many military certificates from many authorities, including his adopted father Indra, the heavenly king. But if he abandoned the battle, not only would he neglect his specific duty as a kshatriya, but he would lose all his fame and good name and thus prepare his royal road to hell. In other words, he would go to hell not by fighting but by withdrawing from battle.
Bhagavad-gita As It Is, 2.34
TRANSLATION:
People will always speak of your infamy, and for a respectable person, dishonor is worse than death.
PURPORT:
Both as friend and philosopher to Arjuna, Lord Krishna now gives His final judgment regarding Arjuna's refusal to fight. The Lord says, "Arjuna, if you leave the battlefield before the battle even begins, people will call you a coward. And if you think that people may call you bad names but that you will save your life by fleeing the battlefield, then My advice is that you'd do better to die in the battle. For a respectable man like you, ill fame is worse than death. So, you should not flee for fear of your life; better to die in the battle. That will save you from the ill fame of misusing My friendship and from losing your prestige in society."
So, the final judgment of the Lord was for Arjuna to die in the battle and not withdraw.
Want daily doses of practical spiritual wisdom in your e-mailbox? Consider joining one of our many eBook clubs