Srila Vishvanatha Cakravarti Thakura -- Disappearance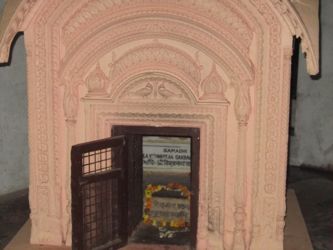 Vishvanatha Chakravarti Thakura was one of the most prominent, influential, and prolifically literate teachers in the disciplic succession of Krishna devotees. He appeared in 1662 in the village of Devagram, Bengal. He received initiation from Ramana Chakravarti, and his name after taking sannyasa (renounced life) was Hari Vallabha Goswami.
Srila Bhaktisiddhanta Saraswati Thakura, a later acharya in the disciplic succession, writes: "To serve the feet of Narottama dasa Thakura was the only desire of Vishvanatha Chakravarti Thakura, who was the fourth acharya in disciplic succession from Narottama dasa." Srila Vishvanatha Chakravarti Thakura wrote more than forty Sanskrit books, including commentaries on Bhagavad-gita, Srimad-Bhagavatam, and the writings of the six Goswamis of Vrindavan.
Srila Prabhupada regularly referred to Vishvanath Chakravarti Thakura's Srimad-Bhagavatam commentaries while writing his own purports.
Pictured here is the samadhi (shrine) of Vishvanatha Chakravarti Thakura, in the courtyard of the Radha-Damodara temple in Vrindavan, India. Courtesy of ISKCON Desire Tree.