Giving & Volunteering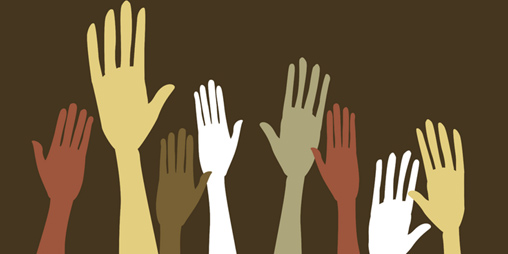 Volunteer with Krishna.com
Join our family of volunteers worldwide who work on improving Krishna.com as an offering of love. Experience the bliss of devotional service to Krishna by spreading His glories on the Internet. Volunteer your time, talents, skills and abilities in His service, seva.
Chances are, if you can read and browse the web, you have enough skills to engage in service at Krishna.com. We have some very specific projects we need help with, and they require specific skills, but we also have some tasks that almost anyone with a computer and an internet connection can do. Look over the list below for details on our most prominent needs.
There is so much we can do together to spread the glories of Krishna on the Internet. So many ways to engage our mind and senses in His service. Don't be discouraged if you don't see a volunteer position below that fits you. Please contact us if you would like to offer a specific skill or talent towards a project. And even if we don't have a way to engage you at the moment, we can keep your information on hand and contact you if we do need your help on Krishna.com.
Services you can volunteer for:
Guide - Answer Visitor Questions

In the forums (community section), via email, and via live text messaging / chat. If you're somewhat familiar with ISKCON and Krishna Consciousness, and you like to answer questions from visitors, this service may be for you.

Eyes & Ears

Krishna.com and all of its little universes (like the Food Channel, Back to Godhead, and Kirtan) provide a lot of information on Krishna consciousness to our visitors. But with so many pages, it's hard for our small staff to check every page, every link, every video, every song or lecture, and every comment or blog. We can always use extra eyes and ears on Krishna.com.

Are You a Writer?

Stories and articles need to be written. Good writers are hard to find. If communicating ideas in writing is something you're reasonably good at, consider serving on our team of volunteer writers who contribute content to Krishna.com. We can give you a list of topics / articles we would like to have written for the site. We're also open to new ideas. Start authoring your own blog and share it with us. If necessary, our editors will work with you to polish your writing and make it suitable for publication on Krishna.com.

Direct Traffic

Are you active in social circles online? Are you on Facebooks, Twitter, MySpace, or other networks? Do you read about Krishna and Krishna consciousness on other sites? Do you know how to use Google's Advanced Search tools? It might sound simple, but one of the most important things you can do is help people find Krishna.com.

Choose One

Some of our happiest volunteers have been people who choose one project on Krishna.com and focus on that. You can adopt a section of the site to read and suggest improvements for, monitor a webcam, or help develop e new section of the site. Even cooking the recipes on the Food Channel and letting us know about your experience is an amazing help to your fellow visitors! Find out more about some particular tasks that need a caring soul and guiding hand to nourish them.