The half-man, half lion incarnation: appearance day of Nrsimhadeva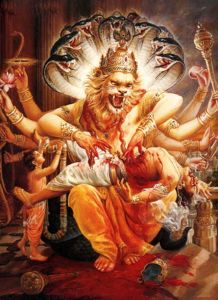 The Supreme Person appears in many forms and at many times. Perhaps His most misunderstood avatar of all is the half-man, half lion Nrsimhadeva (nri-SING-ha-deva). Nrsimhadeva appeared in the distant past to save His devotee, the boy-saint Prahlad (pra-LAHD), from torture and death at the hands of the despotic king Hiranyakashipu (hi-rahn-ya-KAH-shi-pu), who was also Prabhlad's father.
Hiranyakashipu had performed extreme austerities to gain the benediction that he would be protected from death in almost unlimited ways. Because he was so wicked, however, especially in his treatment of the Lord's devotees, Krishna personally came and killed Hiranyakashipu in a way no one could have imagined.
More on Lord Nrsimhadeva:
Blogs:
Audio
Everything Nrsimhadeva—Posters, pendants, prints, photos, books, dolls, and brass statues of Nrsimhadeva, Krishna's unique half-man, half-lion incarnation.
Suggested Reading:

Lord Nrsimhadeva Slays the King of the Demons
—the historical account, from the seventh canto of the Srimad-Bhagavatam, of Nrsimhadeva's extraordinary appearance and activities.