Holy Days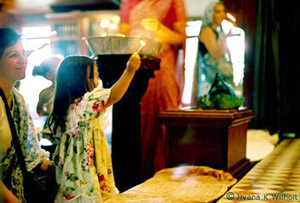 Followers of Bhakti in the Hare Krishna movement have an annual calendar filled with holy days, observed with much chanting of the holy names as well as other practices in line with the specific occasion. Srila Prabhupada once wrote to a disciple, "There are so many festivals that I can give you one for every day."
For some holy days, the great teachers of the Bhakti tradition have recommended fasting as an aid to fixing one's mind on Krishna and remembering the spiritual nature of the day. For instance, on Ekadashi, Krishna devotees abstain from eating beans and grains. For Janmashtami, Krishna's birthday, devotees fast until midnight.
Festivals often include special lectures and plays befitting the occasion, as well as grand feasts for Krishna and His devotees.
Observance of holy days is called "the mother of devotion" because it gives rise to Bhakti.
The most prominent holy days for practitioners of Bhakti are:
Janmashtami, Krishna's appearance day (Unlike us ordinary souls, Krishna and His great devotees are born and die according to their own will. Therefore, their apparent birth and death are generally referred to as their appearance and disappearance.)
Radhashtami, Radha's appearance day
Gaura Purnima, Sri Chaitanya Mahaprabhu's appearance day
Appearance and disappearance days of Krishna's incarnations
Days celebrating certain activities Krishna performs, such as Govardhana Puja or Ratha-yatra
Appearance and disappearance days of pure devotees
Ekadashi, the 11th day of the waning and waxing moon, a day prescribed for increased hearing and chanting about Krishna