How can we make the best of our time in the material world?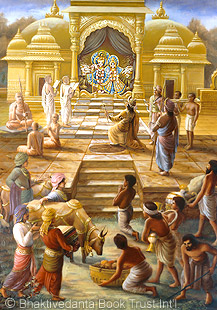 The Vedas stress that the advanced intelligence that comes with the human form of life is best used to secure our return to the spiritual world. As we souls take on, and identify with, bodies in other species, we experience all types of sensual enjoyment. To pursue those same pleasures now is a waste of our human intelligence.
By accepting guidance from the Vedas and enlightened teachers in the Vedic tradition, we can learn how to spiritualize our lives by using them in service to Krishna.
Our task is to awaken our awareness of our relationship with Krishna, to find our true, spiritual identity. The practices of Bhakti yoga achieve this by engaging us in essentially the same kinds of activities we perform in the spiritual world.
When Krishna sees that we've awakened our innate love for Him, He responds by releasing us from His material energy and allowing us entry back into His spiritual world.