If Krishna really loves us, why does He let us suffer in the material world? Why does He allow us to come here at all?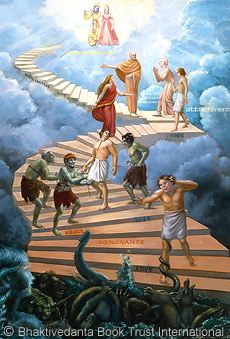 Love entails freedom of choice. Krishna wants us souls to love Him—we exist for that purpose—but He doesn't force us to love Him. When, out of our own free will, we choose to love Him, He allows Himself to be controlled by our love.
Our freedom to choose has consequences. If we choose to rebel against our nature, by refusing to love Krishna, our innate love gets directed toward temporary relationships and pursuits in this world. We embark on a quest to fill the void created by the loss of our loving relationship with Krishna. But the temporary things of this world can never satisfy our eternal spiritual longings.
In human life we must understand the inevitable suffering we bring upon ourselves by our misdirected love, lifetime after lifetime. Now we can freely choose to remedy the situation. We can take to the powerful spiritual practices of Bhakti yoga, which can awaken our original love for Krishna, give us full satisfaction, and deliver us back into His ever-inviting company.