If souls and bodies are different, why do we have bodies at all? Do perfect souls not have them?
We can choose to be in either the spiritual or the material world. In each place we have a form, or body.
Spiritual Bodies
In the spiritual world, body and soul are identical because everything is spirit. There the soul's senses, intelligence, mind, ego, feelings, and desires are pure and transcendental and fully awakened in relation to Krishna. Spiritual bodies are eternal and full of knowledge and complete happiness. Free of the limitations of matter, simply by their will they can achieve, acquire, or do almost anything.
Material Bodies
In the material world, we accept bodies different from ourselves. The Vedas tell us: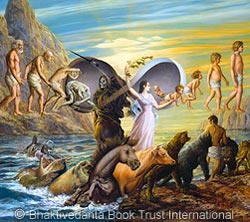 there are 8,400,000 kinds of bodies born of the soul's illusory desire to experience varieties of material enjoyment
although we dwell within the body, Krishna is the body's actual owner and controller; for example, He decides when we'll leave it
the elements of the body—skin, bones, blood, hair, etc.—are all repulsive on their own; we find the body attractive only because of the force of material illusion
material bodies undergo six transformations: birth, growth, sustenance, production of by-products, dwindling, and death
the body is a machine made of matter by which we, the soul, try unsuccessfully to find full satisfaction
our actions in the human body determine what kind of body we'll get next
More on this topic in Bodies and souls