Krishna Art
Now Available!
Krishna.com is proud to announce the arrival of the Bhaktivedanta Book Trust's latest masterpiece—the new publication of Krishna Art, featuring some of the most beautiful paintings done by devotees of Krishna.
Following a tradition of luxurious, elegant display books of Krishna art and Krishna conscious themes, the BBT has finally released this gorgeous new volume of paintings, produced with incredible attention to detail.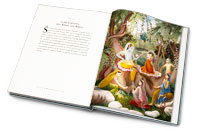 This new oversize art book includes 146 meticulously restored paintings on single pages and double fold-out pages, with accompanying text. Each image has been digitally remastered to produce lush colors in printing.
This deluxe printing is now available. Order yours online today, or contact the Krishna.com Store to find out more. Call 1-800-800-3284, or email store@krishna.com.