Krishna Balarama Mandir 24-hour Kirtans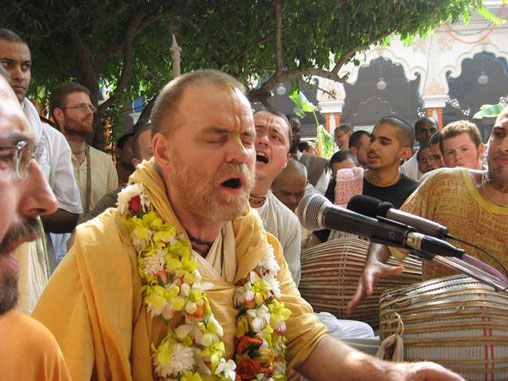 Krishna Balarama Mandir Twenty-Four Hour Kirtan was inaugurated and is sustained by the express will of ISKCON's founder-acarya, His Divine Grace A.C. Bhaktivedanta Swami Prabhupada. It functions to help generate a pure, spiritually sur­charged atmosphere conducive to the advancement of pure devotional life. The 24 Hour Kirtan group has successfully completed its 22nd year of non-stop Kirtan under the continuous guidance of Aindra Prabhu. Aindra Prabhu is a disciple of Srila Prabhupada who has been living in Vrindavan, India for many years. Since 1986 he has been in charge of the Twenty Four-Hour Kirtan at Krishna Balaram Mandir.
The following tracks of Aindra Prabhu are live kirtan recordings. They are dated in day, month, year format and are organized from the year 2000 through 2006. We hope you enjoy these wonderful and spiritually uplifting kirtans.