Krishna's Avatars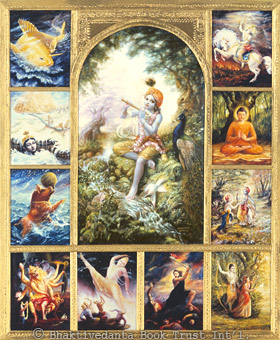 Krishna repeatedly comes to this world in various forms to perform specific functions. Such avatars distinguish themselves by performing extraordinary feats. They are known by references to them in the Vedas, including Srimad-Bhagavatam, which recounts histories of several prominent incarnations from the beginning of creation.
Incarnations
come to show spiritual practices for a specific age in cyclical time
come to give a glimpse of life in the spiritual world, and their actions become topics for discussion to liberate devotees
come to create and control the material worlds
take charge of the universe's secondary creation (by Brahma), its maintenance (by Vishnu), and its destruction (by Siva)
Krishna's names, as in the Hare Krishna maha-mantra, are also considered one of His primary avatars.