Renovating our Temple on the Web
We've just purchased a new property in downtown Alachua that we hope will serve our expanding missionary needs. The property requires some modification and repairs before we can move in. There are two historic buildings from 1915 that were remodeled in 1970. (Watch the video...) The location is great, the price was right, and we knew going into this deal that we needed to fix up the place, as donations come in. One of the buildings needs new siding; both need fresh paint on the walls, new floors, an upgrade to electrical wiring and plumbing, windows need to be replaced. Here's a graph that shows the various costs.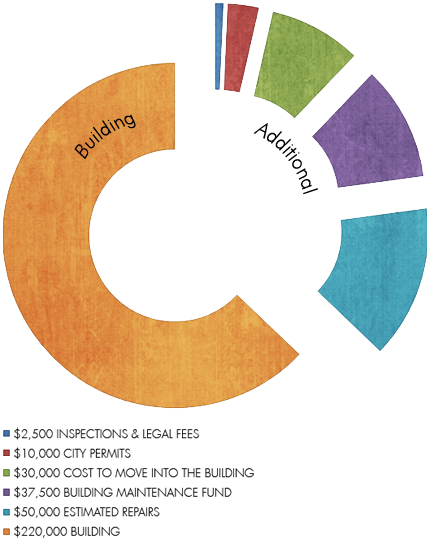 Thankfully our parent company and well-wisher, the Bhaktivedanta Book Trust, invested in the building and purchased it for us with a generous contribution of $200,000. We only need to raise the remaining funds to move, to get the city permits, and to renovate the place. This is where we need your help. Please help us build a bigger "temple on the web" that will be able to serve millions more souls on their spiritual quest back to Krishna.
Any and all donations help. A dollar, five dollars, whatever you would like to contribute. All donors will have their name displayed here on Krishna.com in gratitude for your gift. You can also choose to give anonymously (note that on your donation). Just let us know.
We are a registered 501(c)3 religious non-profit, so your donations are tax deductible (here in the US). We provide proper documentation for tax purposes.