Shiva Ratri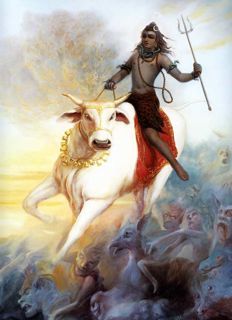 This year (2014), February 28th marks the anniversary of Lord Shiva's appearance. Devotees of Krishna view Lord Shiva as the greatest Vaishnava (devotee of Vishnu), based on Srimad-Bhagavatam, 12.13.16 says this (among other things) about Lord Shiva:
vaishnavanam yatha shambhu, "Amongst all Vaishnavas, Lord Shiva is the best."
Srila Prabhupada, in his book, Krishna, the Supreme Personality of Godhead describes one observance of Shiva Ratri by some of Krishna's greatest devotees:
"Once upon a time, the cowherd men of Vrindavana, headed by Nanda Maharaja, desired to go to Ambikavana to observe the Shiva-ratri ceremony. The rasa-lila was performed during the autumn, and after that the next big ceremony is Holi, or the Dolayatra ceremony. Between the Dolayatra ceremony and the rasa-lila ceremony there is an important ceremony called Shiva-ratri, which is especially observed by the Shaivites, or devotees of Lord Shiva.
Sometimes the Vaishnavas also observe this ceremony because they accept Lord Shiva as the foremost Vaishnava. But the function of Shiva-ratri is not observed very regularly by the bhaktas, or devotees of Krishna. Under the circumstances, Srimad-Bhagavatam states that Nanda Maharaja and the other cowherd men "once upon a time desired." This means that they were not regularly observing the Shiva-ratri function but that once upon a time they wanted to go to Ambikavana out of curiosity."
More: