Shrines and Memorials
Srila Prabhupada's followers built several shrines in his honor. These include his samadhis (tombs) and memorials at places he stayed.

Srila Prabhupada's body is buried here, in Vrindaban, India, adjacent to ISKCON's Krishna-Balarama temple. At this temple Srila Prabhupada spent his final days with devotees, absorbed in thought of Krishna. The samadhi is a beautifully designed, marble-clad building. Go to website


On the ISKCON campus at Mayapur, West Bengal, is a pushpa ("flower") samadhi. Traditionally, a garland worn by a spiritual master is placed in the ground to dedicate a site in his honor. Srila Prabhupada's followers built a magnificent domed shrine here over garlands that he was wearing when he left his body. The complex includes a temple, a museum, gardens, fountains, and an auditorium. Go to website


The New Vrindaban community, near Moundsville, West Virginia, USA, is home to Srila Prabhupada's Palace of Gold, an ornate hilltop structure decorated with stained-glass windows, gold-leafing, intricate carving, and marble work. Devotees spent seven years building it—through bitter winters, months on scaffolds and long hours in craft shops—pitching in whatever talents and energy they had. Today the Palace, a gift of love from the devotees to Srila Prabhupada, is a popular tourist destination, listed on the West Virgina Board of Tourism website as one of the state's main attractions. Go to website


At 26 2nd Avenue, Manhattan, New York, you'll find the first temple Srila Prabhupada established in America and the Western world. This small storefront—the previous tenants had named it "Matchless Gifts"—became the first home of the Hare Krishna movement. Admission was free, and so was the mantra—all you needed was the sincerity to chant. The now-renovated temple is active again. Try to visit this special place. And a few blocks away, at Tompkins Square Park, the city of New York installed a commemorative plaque under a tree where Srila Prabhupada held the first public kirtan chanting sessions in 1966. Go to website


Other Memorials
At the following temples, devotees have carefully preserved the rooms where Srila Prabhupada lived. The links, where available, will take you to the temple's website.
ISKCON Krishna-Balarama Mandir, Vrindaban, India

ISKCON Radha-Rasabihari Mandir, Mumbai, India

ISKCON Mayapur, West Bengal, India

ISKCON Bhaktivedanta Manor, Letchmore Heath, Watford, UK

ISKCON New Dwarka Dham, Los Angeles

ISKCON Radha Govinda Mandir, New York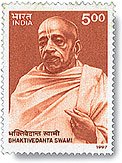 Commemorative Stamp
In 1996, to commemorate the centennial of Srila Prabhupada's appearance, the Government of India issued a postage stamp honoring him as the emissary who spread the glory of India, the message of Lord Krishna, around the world. And at the opening of the ISKCON Glory of India cultural center in New Delhi, Prime Minister Sri Atal Bihari Vajpayee spoke highly of Srila Prabhupada and ISKCON's mission.