Smart Quote of the Day, March 23, 2020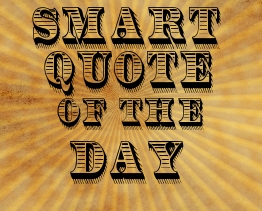 "One cannot please Krishna by sitting idly; one must act according to the directions of the spiritual master for the sake of pleasing the Supreme Personality of Godhead, and then one will gradually come to the stage of pure devotional service."
This is from the Srimad-Bhagavatam 8.1.14
[This chapter of the Srimad-Bhagavatam, entitled "The Manus, Administrators of the Universe," gives a list of ancient dynastic histories, and the highly placed persons responsible for universal administration. One such personality, Svayambhuva Manu, speaks today's verse.]
TRANSLATION
Therefore, to enable people to reach the stage of activities that are not tinged by fruitive results, great saints first engage people in fruitive activities, for unless one begins by performing activities as recommended in the shastras[scriptures], one cannot reach the stage of liberation, or activities that produce no reactions.
PURPORT (excerpt):
Suta Gosvami declared to the great assembly of sages at Naimisharanya:

atah pumbhir dvija-srestha
varnasrama-vibhagasah
svanusthitasya dharmasya
samsiddhir hari-tosanam

"O best among the twice-born, it is concluded that the highest perfection one can achieve, by discharging his prescribed duties [dharma] according to caste divisions and order of life, is to please the Lord Hari." (Bhag. 1.2.13)
According to Vedic principles, everyone must act according to his classification as brahmana, ksatriya, vaisya, sudra, brahmacari, grhastha, vanaprastha or sannyasi. Everyone should progress toward perfection by acting in such a way that Krishna will be pleased (samsiddhir hari-tosanam).
One cannot please Krishna by sitting idly; one must act according to the directions of the spiritual master for the sake of pleasing the Supreme Personality of Godhead, and then one will gradually come to the stage of pure devotional service…
More: