Into the Spiritual World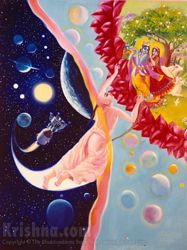 Krishna assures us in the Bhagavad-gita that if we want to live there He will make the arrangements. But first we must demonstrate that we are ready.
Though the spiritual world is the abode of the highest pleasure, hardly anyone wants to go there. We say we'd like to go, and we may think we are going, but our actions speak differently. Either we don't fully believe in a spiritual world, or the information we have about it hasn't inspired us to act in a way that will get us there.
Most of us, having only scanty information of the spiritual world, imagine a place where angels float on clouds and play harps and trumpets all day—a boring existence when compared to our present life, with its friendships, family relations, fancy cars, nightclubs, restaurants, and Sunday afternoon football. Without these things how can heaven be enjoyable? We even joke that hell would be better than heaven, because all our friends would be there. Fortunately, from the Srimad-Bhagavatam and other Vedic literature we get a much clearer, more inviting picture of heaven.
Read More

The painting shows a devotee of Krishna entering the spiritual world.