Sri Caitanya's Teachings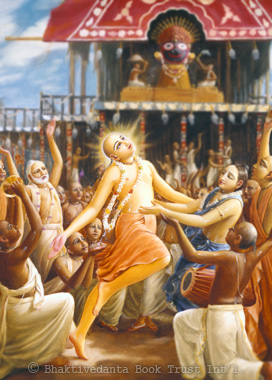 Sri Chaitanya taught that Bhakti, or loving devotion to Krishna, is both the most effective spiritual practice and the ultimate goal of all spiritual practices.
Because He is Krishna Himself, His teachings are identical with those of Krishna in Bhagavad-gita. His only written work is His Shikshastaka, or "Eight Instructions," a concise course in attaining spiritual perfection.
Sri Chaitanya's disciples codified His spoken teachings to them in their books. With copious references to the Vedic scriptures, these books establish the supremacy of Bhakti. Sri Chaitanya's teachings cover three main topics:
knowledge of the soul's relationship with Krishna
the method of awakening that relationship
the awakened state of that relationship (pure love of God)
Sri Chaitanya also contributed immensely to theology by teaching that God is simultaneously identical to and different from His energies, including the material world and us finite souls.
Among the many books by His disciples, Krishnadasa Kaviraja's biography Chaitanya Charitamrita is both a fascinating telling of Sri Chaitanya's life and a rich blend of deep devotion and robust theology.